Field Trips at Merry Lea
Below is a list of the standard Field Trip Programs offered at Merry Lea. Each program description includes: field trip season, grade level, maximum number of students*, program overview and academic standards correlation.
We also offer custom programs. Custom programs may combine 2-3 of our standard programs or you may request a program about birds, renewable energy, wild edible plants, wetland restoration and insects. All custom programs have separate pricing.
---
*Spring 2024 field trip registration opens on Monday, August 21st at 8 am.
*
Fall 2024
field trip registration opens up
Monday, April 1st at 8 am.
---
*Please note: if bringing more than the maximum number of students listed, you will need to reserve more than one field trip date. Already know what program you'd like? Book your field trip now using our online registration system with the button below!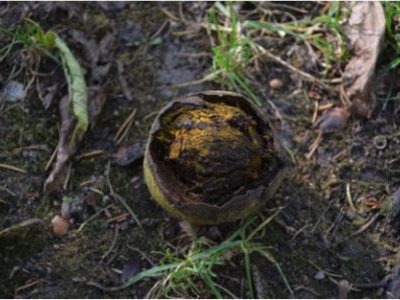 Autumn Adventures
September - November
Discover how animals and plants prepare for winter by observing evidence and using all 5 senses in the forests, meadows, and wetlands at Merry Lea. Students think like a woodchuck, scamper like a squirrel, compare seeds' characteristics and more to experience how Indiana's wildlife is adapted to survive winter.
Learn More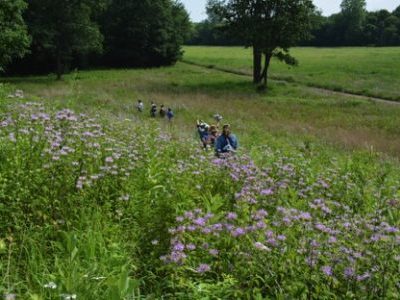 Biodiversity
April - November
Students discover the diversity of life at Merry Lea first-hand by exploring multiple ecosystems on our trails. In each habitat, students identify native organisms and discuss the interconnections of mammals, insects, plants, humans, and more. Assess the importance of biodiversity by flipping logs, interpreting abiotic features, and meeting the flora and fauna of Merry Lea.
Learn More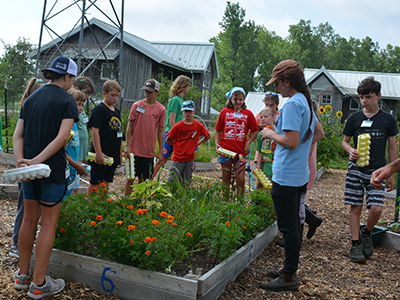 Exploring Merry Lea Teaching Farm
September - November
Merry Lea Teaching Farm is a unique edible ecosystem where students taste their way to an understanding of humans, farm, and habitat connections. Students delve into soil ecosystems, search for pollinators at work, and meet our animals living at the farm. Making apple cider provides students a memorable example of how food can be processed before we consume it.
Learn More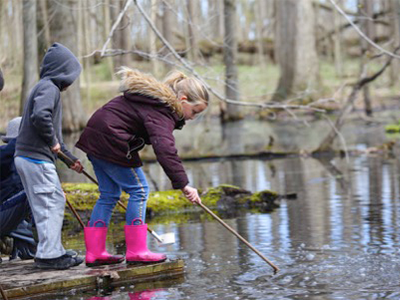 Exploring Nature
April - May
Students explore seasons as spring wakes up around them! Get out on the trails and investigate adaptations, the diversity of life, and ecosystem interactions. Dip for pond creatures, play concept-reinforcing games, and experience spring in Indiana.
Learn More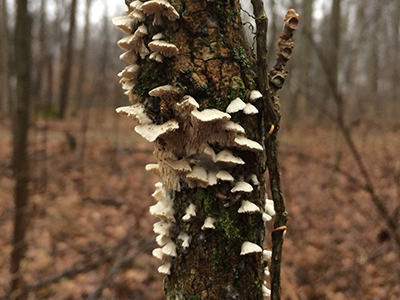 Nature's Recyclers
April - November
We know about paper, plastic, and glass, but how does nature recycle? Through interactive exploration, students visit forests, prairies, and wetlands to learn that everything in the natural world is eventually broken down into its basic parts. Get face-to-face with some wriggly recyclers, and discover why decomposition is such an important process in nature.
Learn More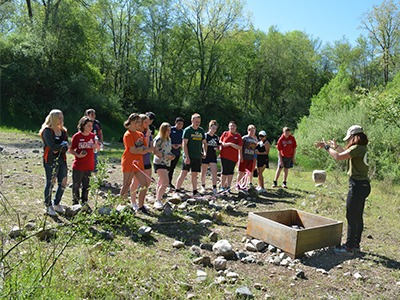 Rock Cycle
April - November
Dig into northeastern Indiana's rich geological history! Students discover the impact glaciers had on this area by seeing glacial activity up close. Hike down an esker, move through layers of topsoil and glacial till to find a peat bog, explore and identify rocks in an abandoned gravel pit, and use models to understand how glaciers changed Indiana's landscape.
Learn More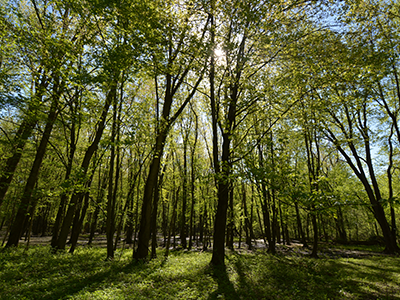 Trees are Terrific!
April - November
The marvelous world of trees is diverse in function, characteristics, and uses. Students explore trees' anatomy and physiology, life cycles, identifications, and roles within different ecosystems. Examine leaves, seeds, buds and more as students hike among the trees, compare and contrast living tree examples, and participate in trail-based activities designed to spark curiosity and learning – all about trees!
Learn More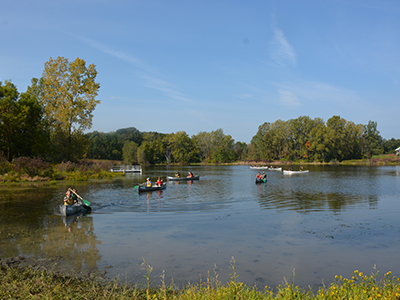 Water Quality
April - November
What, if anything, is wrong with our water? How did it get that way? What can be done about it now? Students address these questions using modern equipment and techniques to conduct water sampling experiments. Explore a lake ecosystem in canoes and waders to assess biological indicators, pollution, siltation, and human impacts on water quality.
Learn More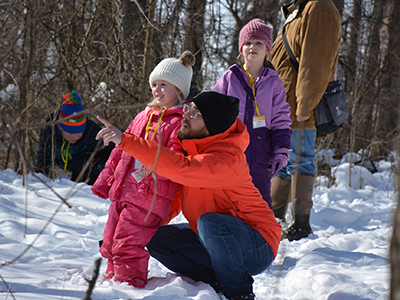 Winter Nature
January
Enjoy the wonders of winter! Students explore how people, plants, and animals cope with winter by using their senses in the wintery woods and meadows. Outdoors they search for signs of life and survival strategies used by native plants and animals. Indoors they warm up while engaging in fun and educational winter-themed activities.
Learn More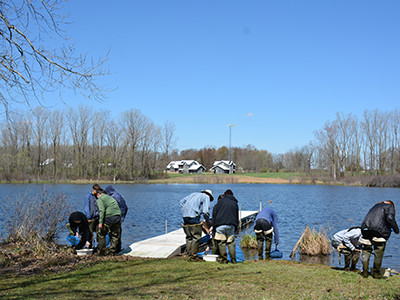 Wonderful Wetlands
April - November
Immerse students in a wetland ecosystem by putting on waders to dip for small animals, identifying these critters, and hiking around the wetland. Throughout each activity and game, students recognize physical and biological components of each wetland type and the important functions of wetlands.
Learn More
Fee Structure