By Rachel Lapp
When first-year students and their families arrived on campus for orientation weekend during the fall of 2002, they found "Ben" ready to help them haul boxes, books, clothes, computers and other must-haves to their residence hall room. Who was this superhuman student ready to assist families? "Ben" was any member of the Goshen College men's soccer team.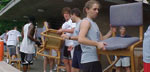 Coach Thavisak Mounsithiraj thought new students and their parents – with so much to do – could use some muscle to make moving go smoothly. He made name tags and T-shirts for the athletes, and told the mother of a new student, "Just ask for Ben!"
This was an early example, said Athletic Director and Associate Professor of Physical Education Ken Pletcher, of a series of opportunities for Goshen athletes to model servant-leadership off the court or field. Within a year, an even larger task engaged the Maple Leafs in seven days of service to the campus that made a difference in many ways for student athletes and their teams.
The idea came from Vice President for Student Life Bill Born, who was aware that the intercollegiate athletic program budget needed supplementation beyond what could be allocated; he was also in the process of determining whether to hire an outside contractor to do furniture moving in conjunction with renovations to campus residence halls. Furniture would have to be moved out of buildings, stored and then reinstalled. He approached Pletcher about having sports teams do the work, and compensating the athletics program so it would have the funds it needed for certain team expenditures.
Pletcher met with coaches to talk about the funds they needed. Together they realized the project also brought an opportunity for GC athletes to example servant-leadership – an integral component of GC's core values and an ongoing emphasis of the National Association of Intercollegiate Athletics.
"The NAIA has a program, 'Champions of Character,' which we were discussing within the Mid-Central Conference and in regional meetings for athletics directors. A component of that is servant-leadership. We could see that Goshen was in a good position to talk about this," said Pletcher. "Athletes are used to the idea that success is measured in winning and losing. But success is measured differently here – it's about making an impact, a contribution."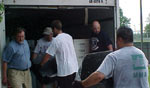 Since the end of May term 2003, seven work crews of student athletes from all sports have moved desks, beds, dressers, shelves, chairs, mattresses, couches and more out of residence halls and back in again. The job required good organization and strong student participation.
"On the first morning we did this, I waited at the Rec-Fitness Center with juice and donuts for the students while coaches were over at Kulp. I was getting really nervous – maybe this wasn't going to happen," he said. "Then I went back over to Kulp to check in, and there was this parade of furniture coming down the stairs outside. You just have to challenge these athletes, and they'll get it done."
Said Born, "From my vantage point, this was a great opportunity to save some money and also support the athletic department. You have to get creative to make things work. And Ken's leadership has been outstanding."
Each moving project takes "an unbelievable amount of time to plan," Pletcher said. "We don't want to waste the kids' time." Yet the nature of athletic teams – their closeness, and headquarters in the Recreation-Fitness Center – made it possible to mobilize the students quickly. Pletcher said the commitment of coaches has been incredible – from gathering their teams together to working alongside the athletes to cooking and grilling food to celebrate a job well done. Help from faculty and alumni was particularly vital when furniture needed to be moved during term breaks when fewer athletes were on campus.
Josh Turnpaugh (Sr., Kentland, Ind.) saw the project as a way for college entities to "help each other out." He said, "I don't think anyone enjoys moving furniture, but knowing the rewards and that it was all going to a good cause made it worth it."
For him, a highlight was seeing alumni lend a hand. "It was good to see them giving back to the school," Turnpaugh said.
There is a place for everyone in the process. Some students master their task and then challenge others to work more efficiently, much like team practice sessions. Pletcher recalled one occasion when Tolu Kayode (Jr., Etobicoke, Ontario, Canada), who has participated in men's basketball and track and field, lined up a dozen desks and pushed them all down the hall toward the floor exit. When no one was there to take them down, Kayode yelled to his comrades to pick up the pace.
Basketball player Lindsay Fisher (Sr., Indianapolis, Ind.) said at first she agreed to help only at the request of her coach, Steve Wiktorowski. But she found "it was so much more fun than just work" and "got to hang out with a lot of athletes I usually don't get to be with." It was a lot of work, "but it all turns out good in the end," Fisher said.
"I'm incredibly thankful to all of the coaches, and am really proud of these kids. They see that they can make a major difference, and they've responded to the challenge to take care of their needs in difficult budget times, taking responsibility to help the college and themselves. Our students will take this with them – and these are memories of service to their institution," he said. "But it's a lot bigger than that. This is showing students about moving from success to significance. Mother Teresa said, 'The surest road to significance is service.' This is a remote idea unless you can connect, and in this case it really has."
Melanie Histand (So., Goshen) contributed to this article.