By Jodi H. Beyeler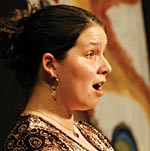 During her four years at Goshen College Rehanna Kheshgi has spent hundreds of hours studying and performing classical Western music, with a special interest in operatic art songs.
At the end of August, as a new college graduate, Kheshgi will continue her study of music, but will be heading to the other side of the world – India – for a year as a Fulbright scholar to learn about Hindustani classical music which is "completely contradictory to anything I have learned,Ó she said.
Kheshgi, of Evanston, Ill., who majored in music at Goshen College, is the recipient of one of 13 Fulbright scholarships in India for the next year. She will be based at the University of Delhi for her studies. A program of the U.S. Department of State, with administrative assistance from the Institute of International Education, the competitive Fulbright Program was established in 1946, at the end of World War II, to increase mutual understanding between the people of the United States and other countries, through the exchange of persons, knowledge and skills.
Fulbright grants typically provide for round-trip transportation, tuition or book and research allowances, maintenance for the academic year based on living costs in the host country and supplemental health and accident insurance. Around 900 grants are awarded each year to both U.S. citizens and students from other countries.
Though she isn't sure what to expect, Kheshgi hopes to attend many musical functions, study Indian religions and learn about how religion relates with the music. "I have this passion for Indian music,Ó Kheshgi said. "I'm interested in learning about the music in its cultural context.Ó She first became interested in Indian music while taking a class in Chicago at the Old Town School of Folk Music.
Indian culture is also part of Kheshgi's family heritage; her paternal grandfather was born in India. She has relatives who are living in and near Delhi whom she hopes to meet for the first time while she is in India. And she has been studying the Hindi language from an Indian woman who lives in Goshen since Christmas. While India is home to many English speakers, Kheshgi feels that knowledge of Hindi is important for her to immerse herself in the culture and context of Hindustani music.
Even for someone who has made music central in her life, Kheshgi is venturing into completely new musical territory. Hindustani music, which is a somewhat secret tradition, has notes, but it is not on a staff system and the teaching of the music is transmitted mostly orally, as it has been for thousands of years. "You learn songs on the scale syllables,Ó she said. "That will be very different to not have music written out like it is here.Ó
The differences, though, intrigue Kheshgi. "I have always learned that those ways of singing are wrong and bad for the voice, but I am interested in how they do it.Ó
World travel and different cultures are nothing new to Kheshgi. As a high schooler her parents encouraged her to go to El Salvador several years in a row on church trips. As a student at Goshen College, she participated in the college's unique Study-Service Term and spent a semester in the West African country of the Ivory Coast. "My whole life has been progressing to this point. I feel like everything in my life has led to the next thing. Everything I did in college has contributed to bringing me to this point,Ó she said.
Jan Bender Shetler, associate professor of history, has worked with Fulbright applicants in the past and helped guide Kheshgi through the application process. "I had no idea going into this that this was such a big deal,Ó Kheshgi said. "They say that after this you can get a job anywhere.Ó
Kheshgi is the daughter of Janelle Landis and Omar Kheshgi of Evanston, Ill. She attends Evanston Mennonite Church and is a 2000 graduate of Evanston Township High School.