Lifelong friendships–and I only graduated in 1999!
My senior year, seven of us decided to get together once a year – on Groundhog's Day. We thought it would be our own special holiday, and it has been. While we haven't stuck with Groundhog's Day itself, we have stuck with getting together each January or February. To date we've been to Las Vegas, San Francisco, Madison, Memphis and Washington, D.C. Next year it's Miami. We're a gang of women that hung tight not only during college, but after as well. It always feels to me like we can just pick up where we left off. Long live Groundhog's Day!
–Amy Gingerich '99, Davis, Calif.
"I look back on my years at GC with warm, fond memories. Keep growing, glowing, going and singing to all the wonderful GC alumni."
–Michael T. Beamer '71, New Holland, Pa.
"I have fond memories of my time at GC. After 32 years, I was reunited with my SST sister in Kingston, Jamaica."
–Mary Bontrager Owens '71, Middlebury, Ind.
"It seems no matter where I go I always find connections back to Goshen."
–Dave Lawson '86, Cornelia, Ga.
My tree
In the fall of 1971, my first year of college, J.L. Burkholder was inaugurated as president, and in his honor we planted trees all over campus. In the first picture I can be seen planting one right in front of the Union building. (OK, I admit that Dan Mullet did the digging, but I put in the tree.) Over the years, on the rare occasions when I had the chance to visit, I always checked on how "my" tree was doing.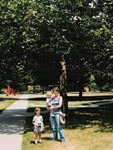 The second picture shows my young sons under the strong, healthy tree. Little did I know back then that my firstborn would end up attending GC! Voilý: the third photo is of Sasha and me on his graduation day in April 2004. As you can see, the tree has become huge, towering over us as it stretches into the sky.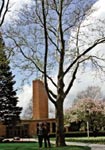 And why am I so sentimental about "my" tree? Because it symbolizes what I love about GC, namely growth. I'd entered college at age 16 and during the four years there, I grew up – developing my intellect, social skills and my faith. The profs were incredible role models, whom I still strive to emulate; I teach nursing and am very conscious of my Goshen education as the root from which I've cultivated my professional expertise. The "Culture for Service" motto flowered into practice in Mennonite Central Committee, and the values of peace and justice have brought forth many fruitful branches. Now I've seen GC's effect on my son – he, too, blossomed in the rich soil of Goshen's supportive milieu. Both he and I tend to push boundaries somewhat, yet instead of being suppressed by authority structures we were encouraged to grow into reflective, purposeful activists.
Thus, whenever I see "my" tree I am filled with gratitude. I thank Goshen College for all it has done for me and my family, and I praise God for the privilege of the benefits of this institution. May blessings be showered like gentle rain upon you and may you, like the tree, continue to grow, evolve and mature!
–Rebecca Dyck '75, MontrĻal, QuĻbec
Fun, fond memories
1. Do you remember the snipe hunts? Gullible freshman males were taken out to a cornfield several miles from town and told to wait very quietly at the end of the field while their fellow students drove snipe in their direction, which they were to catch in a large basket or box. While waiting they would hear the sound of a car, the one in which they had come to the site, departing. They had to find their way back to the college.
2. Do you remember the fall manhunt? I think it was organized by Roman Gingerich, head of athletics. Several upperclassmen were given a head-start to hide out down by the river and woods. Other students then went out to find them. One fellow chained himself to the bridge so that even when he was located it was impossible to bring him back!
3. Do you remember living in the Quadrangle – "the quad" – in the winter the coal miners went on strike? As a result, heat was rationed – especially at night, that snow never melted from your shoes!
4. I remember with much fondness Dr. Roy Umble. I think he knew every student on campus. We used to joke that it took Roy at least an hour to pick up his mail because he appeared to stop and talk with everyone he met. I will never forget his oft repeated statements: "Where to from here?" and "This too is service."
There are many other stories, but I'll stop with these.
–Fred Speckeen '53, Kelowna, British Columbia, Canada
H.S. Bender

I went to Goshen College essentially for one reason: to hear Professor H.S. Bender lecture on Anabaptist history. As a Mennonite of Dutch origin, born in Russia, a Canadian, and a member of the General Conference, I did not know my spiritual roots. That was in 1950. Harold Bender walked slowly up and down in front of the Anabaptist History class, his hands behind his back, saying: "I remember when Felix Manz was drowned in the Limmat River in Zurich, Switzerland, on Jan. 5, 1527." Nobody said, "Professor Bender, you weren't there." We were all there! We witnessed the first death of our forefather, an Anabaptist martyr.
–Peter J. Dyck '52, Scottdale, Pa.
"Gave me an excellent nursing education that has opened some special opportunities for me."
–Ruth Hartzler Martin '56
"FUN jam sessions at GC!"
–Elizabeth Pfund-Woolever '81, Plymouth, Ind.
"I think often of my time at Goshen and how that part of my life brought me overseas."
–Jeanette Moreau '78, Hong Kong

"Wonderful memories I had with choir friends and a wonderful director, Debra Brubaker. Friends who have become family members to me. Tours to different churches, bus trips, home concerts and particularly the "O, Wondrous Mystery" every year. Singing in the Cancer Center, hearing, praying and fighting together with Deb (while she battled cancer) was a wonderful growing experience."
–Fiona Christano '01, Princeton, N.J.
"Each day I appreciate my education and experiences at GC."
–Velma Miller Peck '69, Goshen, Ind.

"As a student who lived in Kulp Hall, I have very fond memories of the Adelphian fountain. One year the fountain had been stocked with goldfish. One day in late fall, it was drained to prevent freezing, without removing the poor fish. Someone came tearing through Kulp yelling, 'The fish are dying! Save the fish!' Most of the girls in the hall grabbed the first containers they could find, and we all ran down and plucked the gasping fish out of the fountain. My roommate and I kept our fish in a glass fishbowl the rest of the year. It sure was a pain to clean it each week, and the process of transferring flopping fish back and forth was an adventure. I remember studying late at night, drinking tea and watching them swim around."
–Brenda Hunter Cromwell '76, Durham, N.C.
"I am so grateful to Goshen for the conflict mediation I participated in and the communication skills I received. People have come to me for advice on how to confront problems with others. I don't wear a sign that says 'conflict mediator,' but I know my education helped me to become a more sensitive, straightforward person and somehow people pick up on that."
–Kelli Holsopple '99, Baltimore, Md.
"I am very grateful for my professors' integrity and faith as well as academic excellence."
–no name
"Excellent, interesting, mentoring faculty and staff."
–Russ Buschert '76
"Choir tours, marine bio, lasting friendships, the fall, walks to the dam, SST."
–Beth Gerig Bontrager '80, Corvallis, Ore.
"I experienced a degree of community at GC that I had not known before. Also friendship."
–Ethel Korn Kambs Umble '75, Goshen, Ind.
"The energy and idealism of students makes for an interesting campus environment."
–Carol Histand Lehman '67
"The first-class music programs that one can participate in."
–Maurice Lehman '64
"The global network of alumni and friends of GC – an instant bond in sometimes unexpected circumstances."
–no name