By Sasha Dyck '04
Professor of Physics Carl Helrich has spent years studying the interactions between bilayers and chemicals, yet the strongest connections in his lab are most often found between him and his students.
For Micah Rogel, a 2004 graduate who majored in physics, the bonds feel especially strong. She has spent the past four years at Goshen College involved in Helrich's undergraduate research projects – an experience she wouldn't trade for the world. "He's been my greatest influence here at GC," said Rogel, "and he's definitely the kind of professor I want to emulate when I become one."
Faculty mentoring prompts student growth
For Helrich, meeting Rogel was memorable. "It will probably be a long time before I forget the day that Micah and I first met," he said. "Her mother, whom I had had in a class, introduced us and told us to 'talk about science.' So we did, and it was very good, and I thought I would never see her again. But then two weeks later she came back alone and said 'I want to be a physicist.' I was shocked! So then we really got into the science, and I could tell that she was very good, although she needed a bit of confidence."
Micah remembers being "very impressed by how friendly and interested" the physics professor was in her future, even though she herself was indecisive. "I thought I wanted to study neurophysics because I've always liked science, especially physics. So after our first meeting I came back to talk some more, and he not only convinced me to become a physics major at Goshen College, but he also became my unofficial adviser!" she said.
During her first semester at Goshen, Rogel signed up for Helrich's research methods course. Rogel said she didn't have much confidence then, and appreciated his encouragement as she began her first year of collegiate study. The next semester, when she told him that she had two credits yet to fill, Helrich suggested she join one of his research projects. "I put her to work," said Helrich jokingly.
The research was a significant challenge for Rogel. "When I first started out, I was really frustrated," she said. "I thought I would never remember the procedures. But Carl was patient, as he always is, and we got it done."
Rogel presented the results of this research at the college's annual undergraduate Academic Research Symposium. The collection and presentation of that original research was the culmination of a significant research experience, but Helrich thought Rogel could still do more.
He said, "When that summer came around, I asked Micah, 'Why haven't you applied for Maple Scholars?' She said something like 'I don't know if I can do it,' and I said, 'Yes you can! I want to see an application from you.' She got in. And she's just gotten better and better since then."
Rogel spent two summers doing research as a Maple Scholar – an initiative founded by Helrich when the Pew Scholars program, of which Goshen was a part, ended – to encourage undergraduate research at Goshen College. Maple Scholars work with a faculty member on a research project and receive a stipend of $2,500 (plus room and board). The research placements – which are competitive and often coveted by students – extend through the summer, and are available across disciplines. During the summer of 2003, 12 students took part in the program; this summer, 20 are participating.
As with many mentoring relationships, the learning goes both ways. "Not only is Micah a very pleasant person, but her ideas are very deep. She's a committed Christian, and a good enough scientist to know that things aren't simple. In her time here at Goshen College, her eyes have been opened," said Helrich. "She's also gained a lot of confidence! I remember about a year ago, we were discussing something in the laboratory and she said 'Carl, you've got to listen to me!' I appreciated that, that's what I want in students. If she doesn't believe that I've got an answer to something, she challenges me."
Rogel credits much of her development as a scientist and personal growth to her interactions with Helrich. "I don't think I would have done as much at all if it hadn't been for him," she said. "He nudges, sometimes strongly, but the final decision is always mine."
Partnering with other Christian research scientists
For the past couple of years, Helrich has been collaborating with Dixon Woodbury of Brigham Young University in Provo, Utah.
Early research in conjunction with Woodbury focused on the effects of the peptide syntaxin, but it soon led to the interesting and unexplored tangent of nystatin/ergosterol interactions. "We're looking at the connection between nerves, the transfer of information in the brain," said Helrich.
In 2002, during Rogel's second summer as a Maple Scholar, Helrich wanted Rogel to learn techniques Dixon was using so that she could reproduce them at Goshen. He sent her to meet with Dixon in Utah.
After two weeks in Provo, Rogel had mastered the techniques and was ready to return to Goshen to carry on. "Dixon was very impressed," said Helrich. "She's really a very fine scientist. She's very careful and conscientious. I know that when Micah Rogel tells me 'these are my results,' that I can trust them."
Along with Rogel, other student researchers have been busy creating artificial bilayers like the type that surround nerve cells. They then observe the effects of having vesicles, made of the same phospholipids as the bilayers, fuse to them. The vesicles are made to also contain the popular antifungal antibiotic nystatin and its helper compound ergosterol. While it has long been known that the raft-shaped clusters of ergosterol help nystatin channels to form, Helrich's research has led to the development of a model – known as the "Goshen Model" – that explains the interactions and dynamics between the two.
"When Dixon saw our model [of this] he said 'It's the Goshen Model!' and the name just stuck," chuckled Helrich. "Dixon loves the Goshen Model. He says, 'It might even be right!' We sure hope so."
Helrich described the research as part of "something that's very interesting to the pharmacological community. This is important. With age, we all know things begin to happen with the brain, things which can lead to Alzheimer's [disease]. Are these things related to nervous interactions? Probably – and some of the medicines out there work at that point. But what I think about at times is, how can we understand the details of the connections between nerves? If we could find that some syntaxin isn't being made, then perhaps we can make some connections."
However, as Helrich points out, "This is purely speculation, only a physicist speculating."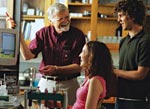 For now, Helrich and his team are concentrating on testing their model. "We hope to understand the difference between different concentrations of ergosterol, as well as trying higher densities," said Helrich.
Along with junior Jason Schmucker, he will spend the summer developing a mathematical model as part of the Maple Scholars program. "We would love a breakthrough," said Schmucker, "but we know that at least we'll have some substantial data, definitely something to publish."
Undergraduate research points to the future
Undergraduate research has a strong presence at Goshen College, as many students in the sciences take part in ongoing faculty research projects and often design their own. Undergraduate research projects often provide watershed opportunities for students, giving them a chance to set direction and consider whether they want to pursue that avenue as a vocational calling.
Said Helrich, "Micah is a good example of a student gaining a lot and growing a lot from undergraduate research. It can be a real eye-opener and confidence-builder, not to mention connection to the wider scientific community. There's really no other way to get that for students." The research keeps professors up to date as well. "As faculty, we bring light into the classroom because we are alive scientifically," said Helrich. "It lets them see what professional life looks like, and do something positive, outside of the pages of the book."
Junior Aeron Huang, also a member of Helrich's research team, agreed. "I've volunteered a lot of hours on this project, because for me, this is learning," she said. "Classes alone aren't enough for me, I want to utilize classroom knowledge in a way that is extendable and intense. I'm so glad I got involved in this project! The research is a great experience, and a great way to apply classroom knowledge to practice." As Helrich is fond of saying, according to his students, "This is hard work, but we can do it!"
Rogel has spent her senior year busily preparing graduate school applications and weighing future options. Throughout the process, she has come back to Helrich "again and again" for guidance and advice. "He's been very helpful in writing me recommendations and working on my CV," she said. "The cool thing is that he pretty much knows my strengths and weaknesses, so he can keep pushing me when I need some help." She intends to enter the master's program in mechanical engineering at the University of Notre Dame next year, and is tentatively looking forward to the day when Goshen College will need a new physics professor to carry on the Helrich tradition.
"I'd love to come back," she said. "I wouldn't be able to fill his shoes, of course, but I'd love to be able to teach physics at GC. To live in the legacy that he leaves would be great, kind of like coming full circle. It would also be my way of thinking of him, to try and become the type of professor that he is. That would be cool."