By Thomas V. Bona '99

At times, the set of "Lonesome Jim" felt like a college reunion.
From the professor sitting next to Casey Affleck in a crowd scene to the student setting up the lights to the alumnus who chose the set location – and starting with the graduate who wrote the screenplay – Goshen College-related talent played plenty of roles in the Plum Pictures production.
Penned by Jim Strouse '99, the movie was filmed in and around Goshen in March and April. It's directed by independent film stalwart Steve Buscemi, a character actor with a familiar face in films such as "Fargo" and "Big Fish," and stars Affleck, who has appeared in movies such as "Ocean's Eleven," and Liv Tyler, whose recent film credits include 'The Lord of the Rings" and 'Jersey Girl."
"Lonesome Jim" is the story of a man who returns home to Indiana after failing to make it on his own in New York City. Strouse, who lives in the city now, said there's a healthy dose of fiction in the comedy/drama, but also some biographical experiences.
"I wrote a screenplay out of frustration. I had been writing short stories but I couldn't get a single thing published anywhere. Failure and rejection seemed to be my thing. So I wrote a screenplay about it. Funnily enough, I succeeded with it," he said.
Strouse, who grew up in Ligonier, Ind., and Goshen, said shooting the film in his home area was originally a cost-saving idea. Rather than recreate northern Indiana elsewhere, producers came right to Goshen's Main Street and also included familiar landmarks like the South Side Soda Shop and even the county jail.
Looking back, Strouse said the decision made for a better film, too.
"The story was born out of those places, and it really added something to the authenticity of the whole project, I think," he said. 'It was also really great to be able to share the making of the film with the people of those communities. I came to appreciate where I'm from in a whole new way."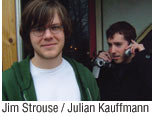 After Strouse and longtime friend Julian Kauffmann '99, also of New York City, returned to Indiana with other film crew members to scout locations, word quickly spread about the production. Former classmates from across the country were calling to offer assistance. Several even moved here for the production. Strouse also sought the help of current GC students to serve as production interns.
Besides Strouse, six alumni and one student served as full-time crew members while seven other students worked part-time through the production.
"Having graduated from GC, I knew what a wealth of talented and energetic students there would be to draw from," Strouse said. "Everyone who showed up to help ended up serving a vital purpose. The production was so small. We needed everyone."
Sidney King '00 was planning to move back to Goshen from North Carolina this year following graduate school, but came a few months early to join the crew. He filled the second assistant camera position – logging footage, carrying equipment and generally assisting the camera operator. "Not glamorous work, but memorable," King said. For example, during filming on Main Street, a camera shot footage from a moving van. "There was no room for me in the van. I had to run up and down the street trying to follow them," he said, laughing.
Tom Glick '98 and Greg Wendling '99 returned from Washington, D.C., and Chicago, respectively, to work on the set as well, in locations such as Strouse's parents' home, an area church and several restaurants.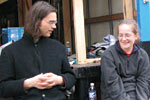 Meg Schrock '04, from Harrisonburg, Va., worked full-time as an intern as part of the last semester of her senior year. She wrangled cables, moved lights and helped with craft services, among other things. "We'd show up for 16 hours," she said. "You got to talk with everybody and find out what goes into the business."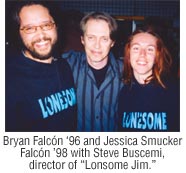 Bryan Falcón '96, GC assistant professor of communication, and poet Jessica Smucker Falcón '98 coordinated interns and took on the huge task of casting the 200-plus extras for the film.
For Falcón, it was a good opportunity to work with other artistic people and to note differences between theater and film. "I love the environment of working with professionals, people that are good at what they do and are just collaborating to create a work of passion," he said. "This wasn't just some job; people cared about what they were doing."
Said Smucker Falcón, "I was expecting to do a lot of grunt work. When they asked me to actually do extras casting, it was really exciting because it was a much more creative position. It was fun to walk around town, looking at people and sizing them up (for roles). I was surprised at how many people we called last minute dropped what they were doing and came out."
Retired GC Professor of Mathematics Merritt Gardner was an extra in two scenes shot at Goshen General Hospital, despite the fact that the nine-hour shoot lasted until 3:30 a.m. In one scene, he was wheeled through the hospital in a wheelchair. In another, he stepped onto an elevator.
"They had me go over and the director took a look at me and said, 'Yeah, you'll do,'" said Gardner, who acted in a GC Peace Play several years ago. "It's one of those life experiences that come your way."
Floyd Saner, GC Plowshares director of information technology and professor of computer science, met Affleck on the set. He's not sure whether the scene he was in will end up in the final cut, but said he most enjoyed the opportunity to watch the process. "That would have been worth it alone. To do a five-minute scene, we probably were there an hour and a half," he said.
And Professor of Communication and Theater Doug Liechty Caskey earned a speaking role – a part he actually wrote. He played a televangelist who appears on TV in a couple of scenes.
Numerous people involved in the production plan to continue working with film. King is in Goshen this summer filming a feature-length movie, and is using some local actors and crew members. Schrock will work on that film and she one day would love to become a director of photography in a production.
"'Lonesome Jim' has given me a really good reference," Schrock said. "When you say that you helped out on a feature film that was directed by Buscemi, people don't question that." Falcón and Smucker Falcón are helping on King's production, and also will work on a film in Lancaster, Pa.
She said, "The whole process of making movies seemed so much more accessible to me than I thought it would be. It helped me, knowing somebody who had that experience."
As post-production for "Lonesome Jim" wraps up, Strouse is working on his next project. Actually, projects – short stories, cartoons and a couple more screenplays. And he'll be involved in post-production of the film he wrote.
"Steve and I would both really love to do some kind of premiere in Goshen at some point," he said.
You could call it a reunion.