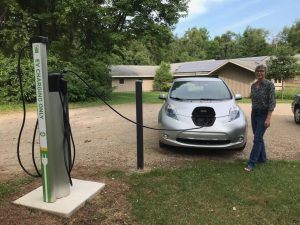 Merry Lea Environmental Learning Center now has a free and public charging station for electric vehicles!
Located in our Learning Center parking lot, our ChargePoint station is free for the community to use every day of the week from 8 a.m. to 5 p.m. Charging time is limited to 4 hours and drivers must have the ChargePoint app on their phone or a ChargePoint card in order to use the station.
Connecting people of all ages with making positive environmental change is one of our mission-driven purposes. Not only will this electric vehicle charging station increase our energy efficiency and reduce our carbon footprint, it is also the first of several sustainability initiatives that will serve as an example for other organizations and community members who seek to make environmentally sound decisions.
This ChargePoint station was made possible by the generosity of the Freda and Calvin Redekop family and is the first in a series of sustainability projects that the Redekop family is funding at Merry Lea. We will also be greatly increasing our onsite solar energy production later this summer and will be purchasing an electric vehicle in the fall.
"We can't thank the Redekop family enough for helping Merry Lea continue to lead the way in sustainability," says Jason Martin, Merry Lea's executive director. "Once our new solar panels are installed, about 50% of our energy will be sourced renewably onsite including 100% of what is used to charge vehicles."
These upgrades will benefit and inspire students, families and organizations we serve as they see sustainability in action.
Last fall, undergraduate students in our Sustainability Leadership Semester conducted an energy efficiency audit of Merry Lea and identified areas where we can reduce our energy usage.
One student who worked on this project was Lee Bergey '23, Goshen College sustainability studies and art double major. Upon hearing that Merry Lea is working to upgrade our infrastructure, they said, "The changes that [Merry Lea has] made already aren't just better environmentally and financially, but it's creating an example for other people. Sustainability should be scalable and accessible, and Merry Lea is a great example of that: making both smaller and larger scale changes."
---
ChargePoint station details:
Location: Merry Lea – Learning Center | 2388 S 500 W, Albion, IN 46701
Available: Every day | 8 a.m. – 5 p.m. | up to 4 hours charge time per car
To Charge: Create a free ChargePoint account and then
1. Use your ChargePoint card, or
2. Download the ChargePoint App and use your phone.