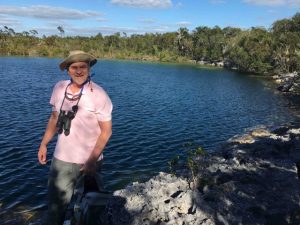 by Dave Ostergren, interim executive director
Greetings from the Commonwealth of the Bahamas,
My salutation may seem odd for someone who is responsible for educational activities in one part of Indiana, but I still direct the Master of Arts in Environmental Education program as well as serving as interim director. For 21 days, we learn about a subtropical ecosystem and then work with six elementary schools to get kids outside and connect them to their environment.
Every year, (this is our fourth) I am amazed by how much the graduate students absorb. We learn how interconnected ecosystems are, how education is a process for teacher and student alike and how the joy of discovery in nature is a universal feeling. This is clearly part of Merry Lea's three-part mission connecting people to nature through environmental education. The time on Andros Island is a powerful experience that makes our master's students better educators and ripples throughout their careers.
Sunrise over the mangrove flats
I write at dawn as a flock of ibises fly by across still waters with hues of pink, white and blue reflected from a waking sky. Every morning, about 30 individuals cruise to the shore to wade in the mangrove flats where they sift through the silt for tasty tidbits. In the evening, they return to their mangrove apartment for a calm night, tucked away from whatever ibises need to avoid. Great Blue Herons, Little Blue Herons, Green Herons, Snowy Egrets, and Osprey are common neighbors.
We are a mile from the ocean on what is called Fresh Creek. It's a brackish stretch of water, 300 yards wide that flows east into the ocean when the tide goes out and west toward the inland fresh-water sources and an expansive lake when the tide comes in. We spend hours exploring these waters, from ankle-deep to 15 feet. Vegetation grows in sandy flats, providing food for the sea turtles we are rarely lucky enough to see. Two thirds of the edible fish here start in the mangroves. Mangroves nurse hundreds of fish species, producing uncountable fry that power a food chain right up to the dolphins who occasionally break the surface of the ocean. Nutrients are trapped by filter feeders that come in fantastic forms from upside down jellyfish to spotted rays to unusual bottom-feeding sharks, two to seven feet long. In my head, I know it's a bottom feeder, but floating above a creature longer than I am still strikes a nerve.
We hike through unfamiliar terrain where the graduate students use their naturalist skills to learn the species and decipher the ecosystems. We stop at a blue hole, a vastly deep, round lake 100 yards across, with 40 feet of fresh water sitting atop saltwater that connects to the ocean through caves. These are remarkable features of Andros Island.
Inspiring curiosity
A huge reason we are here is to inspire curiosity. The elementary students we teach drive by miles of mangroves every day but rarely get the chance to walk on the sharp limestone, dig in the mud or pick up a bug or jellyfish. We ask, "What's going on? What's a nursery? How do filters work and why is it so beautiful?" We wander to the beach so they can run free, make sandcastles and appreciate the ocean that produces food, livelihoods and vast aquamarine horizons. I hear morning reflections from students at breakfast on the unusual ecosystems and the wonderful people we meet.
Here, our graduate students discover that they are educators. They gain much more than any of the Bahamian children they work with. They learn that they can go into a new ecosystem with new audiences and inspire curiosity.
In May, Merry Lea and Goshen College will send out another cohort who will seek to connect people to nature. The hopes we have for them made me want to discuss Merry Lea's role in changing society's trajectory on climate change somewhere in this letter. But the blue skies reminded me that the vast majority of us do not make great changes on great issues. Rather, as Mother Theresa once said, "We do small things with great love."
Our students and all the Merry Lea team connect people to nature through small moments motivated by great love. I thank them all. As I finish this note, I can say that all is well. A Royal Tern hovers near me and then plunges to spear small fish in the shallows. A miraculous sight to behold. I rest in reflection.