Monday, August 27, 2007
Student scholars submerge selves in summer studies
In-depth stories about several of these projects:
GOSHEN, Ind. – Students immersed themselves in subjects from the physics of bells to theories of love and justice this summer through Goshen College's Maple Scholars program.
Maple Scholars is an eight-week program that allows students to participate in independent research alongside Goshen College faculty of various disciplines. Each scholar is paired with a faculty member who serves as both colleague and supervisor.
The 2007 Maple Scholars:

Janie Beck (Jr., Archbold, Ohio), a Bible and religion major, worked on a project titled "The Axes of the Cross are Love and Justice: The Religious and Political Thought of Reinhold Niebuhr and Martin Luther King, Jr." with Visiting Assistant Professor of Religion Malinda Berry. Beck researched the theories of Niebuhr and King and assisted Berry with her dissertation on the same topic as well as preparation for the classes she will be teaching this coming year.
Elizabeth Buschert (Sr., Goshen) and Rachel Versluis (Soph., Ann Arbor, Mich.), both environmental science majors, spent the summer at Merry Lea Environmental Learning Center of Goshen College monitoring grassland birds in prairie systems of varying age while studying the efficiency of a constructed wetland for wastewater treatment with Merry Lea Volunteer Coordinator Lisa Zinn.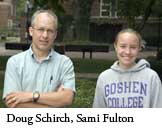 Sami Fulton (Jr., Shreve, Ohio), a molecular biology and chemistry double major, ran tests on an enzyme and worked with Professor of Chemistry Doug Schirch. She gathered data about differences from a mutant form of the enzyme to the regular form in order to possibly determine its structure. The ramifications could potentially affect research on cancer chemotherapy and vitamin B6 deficient diseases.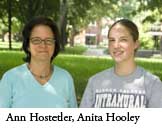 Anita Hooley (2007 graduate, Canton, Ohio), an English major, created an anthology of contemporary Mennonite creative writing with Professor of English Ann Hostetler. Along with collecting and reviewing new work from established Mennonite writers, she contacted newly discovered writers to gather their work. Another part of her work was to update and edit a Web site Hostetler started on Mennonite poets.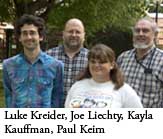 Luke Kreider (Sr., Harrisonburg, Va.), a peace, justice and conflict studies and Bible and religion double major, and Kayla Kauffman (2007 graduate, Middlebury, Ind.) a Bible and religion major, spent their summers working on "The Vengeance, Vindication and Justice Project" with Professor of Bible and Religion Paul Keim and Associate Professor of Peace, Justice and Conflict Studies Joe Liechty. In part, they hoped to gain a broader knowledge of revenge, conflict and violence "so that we might eventually know better how to advocate alternatives in ways that make sense or are appealing to an audience who may not share our convictions about nonviolence," Kreider said.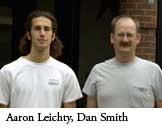 Aaron Leichty (Sr., Mount Pleasant, Iowa), a molecular biology major, researched color genetics in domestic pigeons with Dan Smith, professor of chemistry. They studied one gene known to be partially responsible for coloring in Rock Pigeons. "In the long term, we hope to expand beyond a single gene to multiple genes in order to acquire a more complete picture of the genetics controlling color," Leichty said.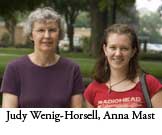 Anna Mast (Sr., Scottdale, Pa.), an art major, spent her summer on a jewelry-enameling project with Associate Professor of Art Judy Wenig-Horswell. She tried various techniques including Cloisonné, Plique-à-jour and Champlevé, and researching which processes are preferable. The goal was to determine which enamels will work best for the jewelry class Wenig-Horswell will teach in the academic year.
Jonathan Nafziger (Jr., Goshen), a physics and art double major spent the summer on a research project concerning handbell resonators with Professor of Physics John Buschert. With audio and visual recording equipment, Nafziger was able to measure the frequencies of handbell vibrations as they correlate to places on the bell where the clapper hits. He also spent part of his time building an anechoic chamber where sound can be measured as it comes off of the bells.

Paul Shetler (Jr., Goshen), a history major, researched the history of Mennonite Central Committee (MCC) in Vietnam with Professor of Economics Del Good. He researched in the Archives of the Mennonite Church (located on campus) and conducting oral interviews. Shetler said, "I hope that this story of MCC in Vietnam can serve as a model for the development community about how best to work across cultural, ideological and political lines successfully."
Jesse Shirk-Byler (Jr., Goshen), a psychology and mathematics double major, worked with David Housman, professor of mathematics and computer science, to research fair allocation. This deals with dividing a set of goods among two or more people. One part of this was to create algorithms that satisfy chosen ideas of fairness.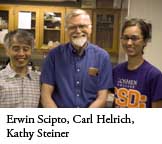 Kathy Steiner (Soph., Geneva, Ind.) a physics major, researched the effect of membrane microstructures on ion channel dynamics with Professor of Physics Carl Helrich and Assistant Professor of Physics at Bethel College (Mishawaka, Ind.) Erwin Scipto. Steiner studied the flow of electric current through channels made in artificial membranes she builds when an antibiotic called nystatin interacts with them.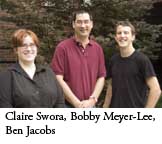 Claire Swora (2007 graduate, Shoreview, Minn.), an English major, and Ben Jacobs (Jr., Goshen), an English and Bible and religion double major, worked on Assistant Professor of English Bobby Meyer-Lee's research project called, "Individuation: Masculinity and Authorial Identity in Geoffrey Chaucer's Canterbury Tales." Swora studied the theory of closure and, in particular, how it relates to one of the Canterbury Tales, "The Merchant's Tale." Jacobs surveyed the critical work surrounding "The Franklin's Tale," focusing on how the tale and its teller reflect the class and social structure of late medieval Britain.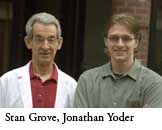 Jonathan Yoder (2007 graduate, Manheim, Pa.), a molecular biology major, spent the summer researching under Stan Grove, professor of biology, as part of a new collaboration between Goshen College and the Center for Cancer Care at Goshen General Hospital. Yoder examined tissue taken from cancer patients at the hospital and compared the samples to help determine the radius of damage from a new radiation treatment they have been given. This will aid the research of Dr. Seza Gulec, a surgical oncologist who hopes to find out the effectiveness of this new treatment for liver cancer.
Matthew Yoder (Jr., Lancaster, Pa.), a communication major, assisted Assistant Professor of English Kyle Schlabach in creating a Web-based center for Mennonite literary study at Goshen College. The site will eventually be a resource to scholars, writers and the general public.
Professor of Physics Carl Helrich, who has been heading Maple Scholars since it began in 1998, said of the current program, "It is unusual for a small liberal arts college to commit this level of support to an in-house [research] program like this." Goshen ranks in the top 17 percent of U.S. colleges for graduates who go on to earn doctoral degrees
Maple Scholars provides excellent experience for students interested in graduate school, with opportunities for specific, in depth research and potential. "I believe this program, which is growing and changing, represents the best of the undergraduate experience in the arts, humanities and the sciences," Helrich said.
– by Kelli Yoder
Editors: For more information about this release, to arrange an interview or request a photo, contact Goshen College News Bureau Director Jodi H. Beyeler at (574) 535-7572 or jodihb@goshen.edu.
###
Goshen College, established in 1894, is a residential Christian liberal arts college rooted in the Anabaptist-Mennonite tradition. The college's Christ-centered core values – passionate learning, global citizenship, compassionate peacemaking and servant-leadership – prepare students as leaders for the church and world. Recognized for its unique Study-Service Term program, Goshen has earned citations of excellence in Barron's Best Buys in Education, "Colleges of Distinction," "Making a Difference College Guide" and U.S. News & World Report's "America's Best Colleges" edition, which named Goshen a "least debt college." Visit www.goshen.edu.