Thursday, September 6, 2007
Bible scholars hope to find a path to peace through the study of revenge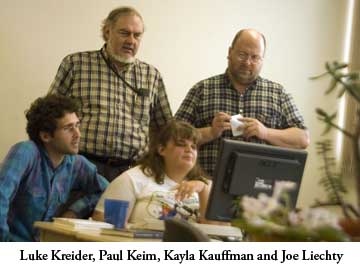 GOSHEN, Ind. – Is there a peaceful way to exact revenge? Can studying "eye for an eye" theologies inform a "turn the other cheek" theology? Two Goshen College Maple Scholars explored these questions and others this summer through: "The Vengeance, Vindication and Justice Project."
Junior Luke Kreider (Harrisonburg, Va.) and 2007 graduate Kayla Kauffman (Middlebury, Ind.) worked as Maple Scholars to aid the research of Professor of Bible and Religion Paul Keim and Associate Professor of Peace, Justice and Conflict Studies Joe Liechty, who intend to use the work to contribute a new perspective to nonviolent theologies, ultimately by publishing a book, and most immediately in their classrooms.
Maple Scholars is an eight-week summer program in which students conduct independent research in various disciplines alongside a supervising Goshen College faculty member.
Liechty described the motivation behind the project. "We observe that Mennonites have two categories in the world. There's either, on the one hand, vengeance or, on the other hand, forgiveness," Liechty said. "Anything that isn't forgiveness is dumped into this category of vengeance."
By breaking down and studying this other category, he said, "we thought we could do better peace work." He and Keim let the research progress somewhat naturally, with a number of goals along the way. "The first one is just to improve our teaching," Liechty said.
Most recently another goal was completed when the project was awarded the C. Henry Smith Peace Lectureship, which includes a research grant, and is given each year to a professor at a Mennonite College. In February, Keim and Liechty will be giving a lecture titled, "Getting Even: How Taking Vengeance Seriously Can Strengthen Mennonite Peace Theology and Ethics," at Goshen College as well as Bluffton (Ohio) University.
For their part in the project, Kauffman and Krieder compiled bibliographies of resources they pored through and abstracted, keeping in mind, specifically, honor and shame as they related to the topic.
Last summer, Kreider and another Maple Scholar worked on this same project. Their research then was an attempt to gather any broadly related materials. Kreider said, "This summer we're focusing on honor and shame, as past research has indicated that a thorough familiarity with these concepts is crucial to the understanding of vengeance and its alternatives."
After being immersed in this sort of research for a few weeks, both Kreider and Kauffman have made discoveries of their own. "I have a clearer understanding of why we seek vindication, of why violence is such a persistent problem," Kauffman said.
Krieder said, "I have gained a greater understanding — a greater empathy — for the reasons that violence may make sense to people, and I believe that this understanding will make it easier for us to speak to those issues in a way that makes sense."
With a summer of research over, the professors will continue to move forward with the project. "The next round of work is to test our ideas with other people in different ways." They plan to lead Sunday school classes and public discussions, among other things, to "get a further sense of how people respond to the ideas we're developing, how we need to revise, re-emphasize.
"It's been so influential on our teaching and our thinking about topics important to both of us," Liechty said. "There's not an end in sight."
– by Kelli Yoder
Editors: For more information about this release, to arrange an interview or request a photo, contact Goshen College News Bureau Director Jodi H. Beyeler at (574) 535-7572 or jodihb@goshen.edu.
###
Goshen College, established in 1894, is a residential Christian liberal arts college rooted in the Anabaptist-Mennonite tradition. The college's Christ-centered core values – passionate learning, global citizenship, compassionate peacemaking and servant-leadership – prepare students as leaders for the church and world. Recognized for its unique Study-Service Term program, Goshen has earned citations of excellence in Barron's Best Buys in Education, "Colleges of Distinction," "Making a Difference College Guide" and U.S. News & World Report's "America's Best Colleges" edition, which named Goshen a "least debt college." Visit www.goshen.edu.