Thursday, September 6, 2007
Summer scholar helps design virtual Mennonite writing resource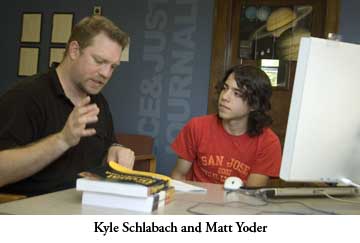 GOSHEN, Ind. – Goshen College junior Matt Yoder spent the summer with the Maple Scholars research program designing a one-of-a-kind online writing resource.
Maple Scholars is an eight-week summer program in which students conduct independent research in various disciplines alongside a supervising Goshen College faculty member.
Assistant Professor of English Kyle Schlabach is leading this project to create an online center that compiles a multitude of resources on Mennonite writing. He served as the faculty adviser to Yoder, a communication major from Lancaster, Pa.
According to Yoder, while there are other resources that contain some component of the new Mennonite Writing Center, none have incorporated all that it is intended to be.
The goal of the project, Schlabach said, is to "create a center for Mennonite writing with a focus on scholarship discussion and the creation of new work." Labeling it that way "conjures up images of a building that has many different kinds of resources in it," he said. "These are all the same things we'd like to do with this Web site."
The plan, which Yoder spent his first few weeks outlining, is for the site to have three components. A journal section will include new writing and criticism. A resources section will include writers' biographies, bibliographies, links to other relevant sites and classic Mennonite texts. And a community section will be the most interactive portion and will include forums and discussion groups.
The goal is to "make a site that's accessible to all people — that doesn't confine the Mennonite experience to certain images," Yoder said. For this reason he researched lesser-known historically Mennonite symbols and motifs and attempted to subtly incorporate them into the Web site's design.
A summer goal, Yoder said, was "to create a site that can be maintained by people who don't know a lot about Web design." This means part of his job was to create documents that others can follow later to keep the site updated.
Yoder was drawn to the project because of his interests. "I get a chance to have real life experience at designing a Web site and also to learn about Mennonite writing," he said. Yoder hopes to work in Web design, likely for a church organization, at some point after graduating.
At the end of the summer, Yoder had created a prototype of what the finished product will be. And he's had hands-on experience of what it means to create a Web site for a client.
Professor Emeritus of English Ervin Beck introduced the idea of a resource for Mennonite writing nearly a decade ago, and will provide many of the resources he has collected during the years he taught the Mennonite Literature course.
Schlabach is pleased to be collaborating with Yoder. "The reason we were so delighted that Matt was our Maple Scholar is that he brings a combination of visual and graphic design skills that are exactly the kinds of talents we need to help [the online center] become a reality," he said.
"It's been a really good learning experience," Yoder said. The target launch date for the Web site is July 1, 2008, though elements of the site will be available in their current locations. One major piece that will provide significant information is Professor of English Ann Hostetler's Web site, accessible at: www.goshen.edu/mennonitepoetry.
– by Kelli Yoder
Editors: For more information about this release, to arrange an interview or request a photo, contact Goshen College News Bureau Director Jodi H. Beyeler at (574) 535-7572 or jodihb@goshen.edu.
###
Goshen College, established in 1894, is a residential Christian liberal arts college rooted in the Anabaptist-Mennonite tradition. The college's Christ-centered core values – passionate learning, global citizenship, compassionate peacemaking and servant-leadership – prepare students as leaders for the church and world. Recognized for its unique Study-Service Term program, Goshen has earned citations of excellence in Barron's Best Buys in Education, "Colleges of Distinction," "Making a Difference College Guide" and U.S. News & World Report's "America's Best Colleges" edition, which named Goshen a "least debt college." Visit www.goshen.edu.