.


Cultivating Creativity This is Betsy Poling Braun's page to help parents encourage creativity in their children.  Ms. Braun teaches art at Ox Bow Elementary in the Concord district, Elkhart, Indiana.

updated: 11-16-01
more creativity links
---
| | |
| --- | --- |
| | In this scene, Betzy Poling Braun, Fall, 1999, Goshen College Student Teacher, is explaining the use of the viewfinder to a fifth grade class at Westview Elementary School, Topeka, Indiana. Rebekah Short is the art teacher. The students begin using the viewfinders for drawing practice as soon as the explanation is completed. Dried milkweed pods are being used as subject matter. |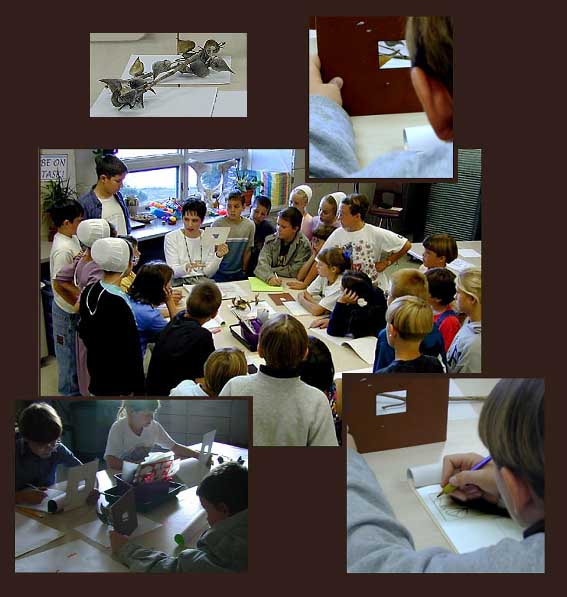 Creative People, the Nature of Creativity , and Creative Management are covered in this annotated bibliography on Creativity.  More than 45 works are sited with useful summaries of the authorsÕ conclusions.  Experts sited include E. Paul Torrance, Abraham H. Maslow, Silvano Arieti, S. J. Parnes
http://advertising.utexas.edu/research/biblio/Creative.html
This is a site by Jef I. Richards, Department of Advertising, U. of Texas, Austin. © 1995, 1996, 1997.  Some material here may be subject to copyrights of other contributors.
CREATIVITY -- A SELECTED BIBLIOGRAPHY http://www2.csbsju.edu/creativity/98/bib.html
Creativity Conference 98 - A Creativity Bibliography
Compiled by Prof. Charles Thornbury

---

CREATIVITY WEB -- Resources for Creativity and Innovation
This web site is by Charles Cave in Sydney, Australia
http://www.ozemail.com.au/~caveman/Creative/index2.html

TECHNIQUES TO BE MORE CREATIVE
This is an example of one of many links from Creativity Web by Charles Cave in Sydney, Australia http://www.ozemail.com.au/~caveman/Creative/Techniques/index.html

Creativity: Method or Magic? An essay by Stevan Harnad
Cognitive Sciences Centre, Department of Psychology, University of Southampton
Highfield, Southampton
SO17 1BJ UNITED KINGDOM
This essay explains why some things like problem solving, deduction, induction, trial and error, heuristics, and abduction are NOT creative.  Harnad explains what he believes is useful in fostering creativity.
http://www.cogsci.soton.ac.uk/~harnad/Papers/Harnad/harnad.creativity.html

SYNECYICS This is one of the many techniques described in Creativity Web Techniques.
http://www.ozemail.com.au/~caveman/Creative/Techniques/synectics.htm

---

Book List on Creativity & Motivation by Nita Leland
http://www.nitaleland.com/books/creativitybooks.htm

Exploring Color and Creativity - Nita LelandÕs Home Page
http://www.nitaleland.com/index.htm

Drawing with Two Hands ø from Nita LelandÕs links. This is an innovative variation on drawing practice.  It is one of Leland's several art lessons.
http://www.nitaleland.com/project/draw2hand.htm
---
see update date at top of page

---

All rights reserved.  Photo copyrighted 1999 Marvin Bartel.  You are welcome to link this page to your page.  You may make copies as handouts at no cost if you e-mail for permission and the URL is included on the handout.
E-mail: marvinpb@goshen.edu