By Justin Rothshank '00, Brad Siemens '99 and Jessica King

The corner of Stanton and Negley Avenues, in Pittsburgh's East End, is a busy one. It is the physical intersection of three ethnically and economically diverse neighborhoods. Bus stops for seven city bus routes are located there, and 10,000 people pass through on foot or wheels each day. There is a drugstore, a behavioral school, an apartment building and a 100-year-old church building. Now it also hosts the Union Project, an innovative nonprofit organization involving eight GC graduates.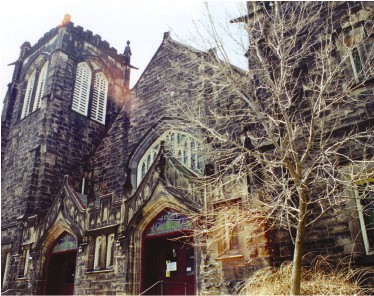 The Union Project was founded in January 2001 by a group of Mennonites striving to use their ideals about faith and community to make their neighborhood a better place. They chose a 15,000-square-foot, soot-covered church abandoned for 10 years to house the initiative, and the building itself plays an important role. The Union Project's mission is to restore the former Union Baptist Church to provide gathering and working space for artists, community builders and people of faith.
James Eash '01 was the Union Project's first volunteer intern, through Mennonite Urban Corps. The group was interested in this particular building, he said. "A lot of us work in areas of the arts, community building, social services, etc., but the idea that an immediate impact could be made locally - and apart from what we do for a living - was impressive," Eash continued.

The neighborhoods surrounding the Union Project noticed this impact in at least one immediate way: the dumpsters. With the help of many volunteers, five dumpsters have been filled with the detritus of neglectful owners, including 21 dead pigeons, dozens of garbage bags of rotting plaster and several exterior walls worth of poison ivy. The building, long a neighborhood eyesore, is now starting to look like people care about it.

Irene McLaughlin, a neighbor and City of Pittsburgh magistrate said, "I knew something good was happening for sure when I would walk to the bus stop in the snow and the sidewalks in front of that old church were shoveled."

Though the exterior is already showing progress, it's the project's programming that reflects the Mennonite roots of the Union Project, which strives to shed the light of faith onto community arts - infusing the creative into experiences with the divine, and claiming a spot for the divine in the creative process.

The schedule of events held in the unfinished building reflects the diversity the project is trying to cultivate. One Sunday in April 2002, Pittsburgh Mennonite Church worshipped in the Union Project building around the set that a local theater troupe had built during the previous three weeks for a play about 18th-century vampires. In August, a hip-hop concert and break dancing contest were sandwiched around an interdenominational hymn sing. Every week in the summer, the lawn hosts a farmers' market with local organic products.

In addition to the nontraditional take on community arts and the unique slate of events accompanying it, the Union Project has borrowed from Mennonite and Amish communal models to create an uncommon approach to the building renovation.

"Mennonites have a solid history of using the hands of many to make the workload light," said Heather Kropf '94, one of the Union Project's founders.

To this end, the Union Project has received over 4,500 volunteer hours from a healthy balance of locals and Mennonite youth groups, colleges and interested individuals - a trend that could significantly lower the total cost of the building's renovation.

This barn-raising ethos will need to continue for the project to be a success. Although the Union Project has already raised over $100,000 through donations, grants and in-kind gifts, the total amount needed to complete renovation is estimated at nearly $2 million. To complete such a campaign will require a broad base of support from the local philanthropic community, local and state government sources and Mennonite individuals, congregations and institutions interested in seeing a young, urban expression of Mennonite faith succeed.

According to Union Project Board Chair Brad Siemens '99, the funding network is developing positively. "We've received a lot of encouragement from a wide array of people - from pastors to Pittsburgh City Council representatives to secular starving artists - because we're taking Mennonite ideals we've been taught all our lives - GC's 'Culture for Service' motto comes to mind - and in our own practical way giving them life in our physical, professional and creative communities."

This convergence of circumstances, youthful idealism and solid Mennonite ideals has attracted the attention of Pittsburgh's press corps also. Over the past year, articles about the Union Project have appeared in the Pittsburgh Business Times, both of Pittsburgh's daily newspapers, one of the city's two weekly newspapers, the local public television station, and numerous neighborhood newsletters.

A writer in Pulp, a city-wide free weekly publication, summed up the Union Project like this in a cover story, "What the folks behind the Union Project understand is this: The possibility, however slight, of different people - blacks, whites, Christians, Muslims, PTA mothers - gathering in one space, for whatever the reason, is far too lovely a future not to work toward."

Other GC graduates who have been involved with the Union Project at some point during its creation include Keith Hershberger '94, Chad Martin '98, Zach Landis-Lewis '00, Peter Eash Scott '99, Marissa Smucker '94 and Ryan Sauder '97.

For more information about the Union Project, visit on-line at www.unionproject.org or call (412) 363-4550.