By Jodi Hochstedler

Working with what's available: this is a theme of Pittsburgh singer-songwriter Heather Kropf's latest project, and her life.

It was during junior high that Kropf first became a recording artist as she wrote her own songs, picked them out on the piano and recorded her own harmony with two tape recorders. Since those early makeshift recording days, Kropf has slowly and intentionally evolved her music.

In 1992, as a second-year student at Goshen College, Kropf heard about a project for student singer-songwriters called "Rooftop Songs," a taped collection of original music and coffeehouse performances to promote it. A friend pushed her to audition and she landed a space on the recording. Kropf considers this her "official beginnings" as a singer-songwriter.

"That is where I got started, at least beyond playing for my best friends," she said. "GC is a great environment for people who want to try things, especially in the creative area. If you get on stage, people will clap for you. I didn't love performing, but I liked playing my songs and the encouragement of being well-received."

After graduating from Goshen with a visual arts major, Kropf headed to Pittsburgh with the Pittsburgh Urban Leadership Service Experience (now known as Mennonite Urban Corps, for which Kropf serves as co-director) and interned at WYEP. Her job at the local public radio station was to listen to submitted music and decide what went on the air. "It was a hard job because I wanted to give everyone a chance," Kropf said.

In this position she had many opportunities to observe singer-songwriters during recordings, interviews and performances, including Patty Larkin, Joan Baez, Dar Williams and Vonda Shepard. With insight into the business, she thought, "My songs might be good enough."

Kropf continues to wrestle with music as her vocation. "I still haven't totally committed to being a singer-songwriter, because it's a huge risk, but I am striving towards that," she said. Like many other singer-songwriters, the daily reality of living, loans and house payments keep Kropf from having the security to pursue music full-time. "If a person follows their bliss, it's an act of faith. If you don't, you are expressing that you don't have faith in God," Kropf said.

As assistant tutor coordinator for East End Cooperative Ministries, and with her work with Mennonite Urban Corps, Kropf struggles to find all the time she would like for writing, performing and recording. In the future, she said, "I hope my music and work will become more unified and I don't have to be so scattered in my focus."

Kropf writes three to four new songs a year, though she always has five to 10 songs needing final notes or lyrics. "I wait for inspiration. The more disciplined I am about journaling, reflecting on life and practicing piano, the faster the writing comes," she said.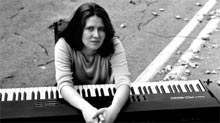 Though she appreciates the writing style of musicians such as Simon and Garfunkel, Sting and Suzanne Vega, Kropf looks inward for musical inspiration. With rich poetic word choices, Kropf uses her songwriting to flesh out her thoughts about her life and thought processes, as well as observations about the natural world.

"Songwriting has been an internal thing for me, like a journal entry," she said. "Songwriting is a spiritual discipline for me – I don't do it for fame or money. I don't have an agenda." Kropf's music, an unassuming vocal style mixed with bits of jazz, pop and folk, isn't overtly religious or Christian, but, "religious imagery is interesting to me and it shows up in my songs," Kropf said.

Since her first self-produced recording (2000), a collection of songs she wrote over a long period of time, songwriting for Kropf has undergone a transition. After seven years in Pittsburgh and six different places of residence, Kropf recently bought a house in Pittsburgh, passed her 30th birthday and feels more settled. At times this is "less inspiration" for her writing, but she has found new depth to her music. "It's hard to write songs when I'm settled because so much seems resolved," Kropf said. "So, I have to look outside myself for stories – a good thing – or look closer at what I've got – also a good thing."

Kropf averages between two and five performances a month, primarily in Pittsburgh, but performing isn't her favorite part of being a musician. "What I like doing is writing songs and recording music. I know there will always be musicians better than me, so I surround myself with high quality players," Kropf said. "But, I wrote the song, so I get to be on stage."

Her latest project is still in the beginning stages, but Kropf describes it as "very different" from her first. Kropf and a band of four others will record in a building that used to house the Aspinwall Ladies' Social Club. Instead of playing her keyboard, she will perform on an old Steinway piano. And the group will be operating under the assumption that, "If we can't make the sounds, maybe they shouldn't be made," said Kropf.

There is a counterintuitive line in one of Kropf's new songs, "Compass Rose," that says, "dive deep to breathe." Like the lyrics, Kropf is finding that "working with what's available" to her is opening new doors, taking her deeper and moving her to where she can really be herself.



To contact Heather or to book a show:
solarsister@hotmail.com
To order a cd:
www.cdbaby.com/kropf
compass rose
I've got this love like the month of June
steals all of my afternoons
my afternoons for sleeping
my afternoons for dreaming
I've got this love like the coming tide
sometimes I wonder if we will survive
survive all the demons
survive all the reason
shipwrecked in the sun
my compass rose has come undone
I know this time it's real
the planets all lined up
the hand of God or Lady Luck
I know this time it's real
I've got this love and it waits for you
what else is love supposed to do
the hours, they pass silently like
strangers on the sidewalk
shipwrecked in the sun
my compass rose has come undone
I know this time it's real
the planets all lined up
it fills me then it tips my cup
I know this time it's real
oh, the world in each hand weighs
to care or to be free
but I've blown it's cover
I've discovered a love where
I dive deep to breathe
dive deep to breathe
my fingers trace each fragile thing as if I had been blind
as if I had sight for the first time
I've got this love....