About this issue: It takes a community
On May 26, 2002, a day of bright sun and expectation,
hundreds of people crowded into Gunden Gymnasium in the Gingerich Recreation-Fitness Center to celebrate with loved ones ascending the wooden stage and receiving their undergraduate diplomas. In caps and gowns, some wearing red sunglasses or tribal beadwork, on rollerblades or carrying a cell phone or a rose, each graduate was acknowledged for their individual accomplishment in the sights of those who supported them in achieving it: families, professors, friends, children – and some who represented a whole village.
Graduating senior Elijah Metekai was joined by four family members and a friend from his Maasai village in Olosho-oibor, Kenya, for the weekend ceremonies as he became the second member of his nomadic Maasai village to graduate from a U.S. college or university (less than 10 people from his village have graduated from any college).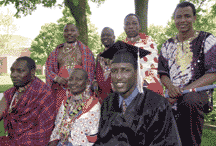 In order for Elijah's mother Nonkabirika Metekai, brothers Simon and Peter Metekai, cousin Simon Riyies and friend Moses Kinayia, to attend, their fellow villagers sold
cows and handmade crafts to pay for around $10,000 in airfare and other travel costs. Why? Because it is a community investment.
Kinayia, head of a Kenyan nonprofit development organization, described the Maasai interest both in helping Elijah attend GC and sending his relatives to Indiana to celebrate his accomplishment in an article by The Truth (Elkhart, Ind.) reporter Thomas Bona '00. He said the Maasai view education as a way to help them connect to the rest of the world while preserving their own tradition.
Elijah said that his graduation is seen as a success for the tribe, not just for him. He told Bona, "It's really a very, very big event in our country," he said. "In our community,life is very communal, not individualistic … If any worth comes out of it, it's worth for the community."
The Maasai support for Elijah was much more than monetary. In the weeks and months preceding the trip, Maasai neighbors from the region sent their greetings with the Metekais.
Kinayia said, in The Truth, "For us, it is a miracle to have a university graduate. If it was possible to walk to Goshen College, you would see 6,000 people here."
Elijah arrived on campus in 1996 as a Mennonite Central Committee trainee, working for physical plant with skills learned in Nairobi, and through that time of service was encouraged to enroll at GC. What he found here was not completely unlike his home environment: a community. The Truth article said that the most interesting thing that Elijah's relatives saw here – including the large airport, expansive highways and even Wal-Mart – "is how Elijah's friends here have adopted him and treated him as family. They are very thankful to Goshen College and the other people around town who helped him and welcomed them" during commencement weekend.
Brother Simon Metekai told The Truth, "We are very grateful … when you come to our village, you can have as much beef as you can eat."
With his degree in business information systems, Elijah plans to go on to graduate school and, eventually, return to Kenya to work for a nonprofit organization or government agency. He is one more GC graduate who seeks to apply what he has learned in service to community – wherever it is found.
Throughout Goshen College's history, this similar sense of community has graduated students who understand interconnectedness and practice servant-leadership – who know that the choices we make as individuals can affect others, that we can expand our thinking through the perspectives of others, that using our gifts to understand and serve others is to further the kingdom of God. In this issue, read about diverse alumni who are building and serving communities in different ways – from making homes handicapped accessible to shaping how communities literally connect to one another through transportation to introducing audiences to the world of Shakespeare.
And these are just a few examples – write and tell us more!