| | Drafting and Design Course Home |  House Design Syllabus
Design Ethics | Drafting and Design Syllabus |   Assignments
| Preparing for Tests | Prices of materials | Soapdish Assignment | Journaling |
| Design concepts & Drafting Standards | Websites to see
| Time Saving Acad Hints | Answers to Questions | The Secret Purpose of Craft |
| Goshen College Art Department | Bartelart.com | Prices of Materials |
| Marvin Bartel Courses | Marvin Bartel Home | Bartel Artwork |

---
Design Concepts, Sketching , and Drafting Standards

ART or NASI 214: DRAFTING AND DESIGN
Art 316: House Design

Marvin Bartel, inst., Goshen College

September, 1999
---
Important Design Concepts
identity, memorable, style, expressiveness, aesthetic quality, and user preference
symbolic meanings, historical contexts of objects
visual honesty, ecological concerns (ethics)
usefulness, function, and durability
economy and appropriateness of fabrication/production processes
top of page
Importance of Sketching
Sketching is used to speed up visual problem solving. Sketching can generate many options very rapidly. Drafting prior to making a list of sketch alternatives can result in poorly conceived products.
Sketches are important communication tools. A drafted drawing implies a more advanced state of planning which intimidates the client from making suggestions. They are afraid to make suggestions because it appears that they have already invested too much in the plan. This can result in inferior design and poor satisfaction with the end product. A sketch implies an early state of planning and designing which invites input and participation on the part of the client. The resulting product is more likely to be appreciated and understood by the client.
Characteristics of sketches:
How to sketch:
Be sure to ask for demonstrated clarification if needed.
Pencil tipped to 50 to 60 degrees in direction of movement.
Right handed move from left to right. Left handed move from right to left.
Rotate paper to facilitate natural ease of drawing.
Use a long line. Or, use short lines that do not overlap.
Make lines parallel to edge by using a finger sliding on edge to control it.
Practice making circles using a fingernail as a compass (pivot) point while rotating paper under it.
Use very lightly drawn preliminary target points to create shapes. Try point-to-point method for determining proper length and placement.
For ellipses use bisected rectangles as construction guides.
View apparent size relationships for observation sketches by using full-arm-length pencil measuring. Make comparisons.
In perspective sketches, receding (horizontal) lines converge at vanishing points on eye level (horizon) line. All vertical lines remain vertical unless you are a very high or low view point. Perspective sketches have a varying scale (not to scale but realistic size relationships depending on distance from viewer).
Perspective sketches are in photographic proportion and easier for most clients to visualize.
In isometric sketches, receding lines are parallel (not converging to a vanishing point) and drawn to scale, but lines do not appear realistic (useful for planning drafting, but not as good as perspective for client visualization).
All vertical lines remain vertical in both isometric and perspective sketches unless a very high or low viewing angle is selected.
Shading adds realism and three-dimensionality to sketches if it faithfully renders lighting effects. Shading is on the object and shadows are cast on the ground near the object. Highlights indicate the direction of the light source.
Basic Drafting Standards
A. DRAFTING SHEET SIZES
All drafting is done on standard sizes.
In the U.S. according to ANSI (American National Standards Institute) letter size paper is an architectural (first series) A size sheet. It is 8.5x 11 inches. An engineer's (second series) A size sheet is 9x12 inches.
B size sheets are double the size of A size sheets (11x17 or 12x18) (11x17 is also called "tabloid" size);
C size sheets are double the size of B size sheets (17x22 or 18x24);
D size sheets are double the size of C size sheets (22x34 or 24x36); and so on.
In many countries, ISO (International Standards Organization) metric measurements are used. Using ISO standards (third series), the smallest size is an A4 sheet at 210x297mm; A3 size is 297x420; A2 is 420x594, A1 is 594x841, and A0 is 841x1189.
B. LINE WEIGHTS
On drawing boards, finished pencil drawn drafting has bold object lines (2H to B pencils) and light dimension lines, center lines, sections lines , and so on (3H to 5H pencils). Temporary construction lines, guidelines for lettering, and so on, are very very light (7H or 8H). Border lines for the drawing sheet and title block are bold bold (3B to 6B).
Inked or computer plotted drawings use different pen widths while inking or plotting to achieve similar effects. When plotting (printing) using a laser or inkjet printer from a computer drawing in AutoCAD these line boldness conventions are replicated by configuring each line color as certain line width.
Object lines are bold, but about half as bold as border lines. Dimension lines are about half as bold as object lines. AutoCAD drafting uses colors to emulate each thickness (black or white for objects, green for dimensions, blue for borders, etc.). In AutoCAD's print dialogue box your are allowed to designate different line widths for each different color.
C. COMMON DRAFTING LINE TYPES and TERMS
top of page
Continuous line ______________ Visible object line (bold) or construction lines (very very thin).
Hidden line _ _ _ _ _ _ _ _ _ _ Shows important but invisible lines (medium).
Center line _____ _ _____ _ ______ Used to dimension to the center of arcs, circles, etc. (thin).
Phantom _____ _ _ ______ _ _ _____ Used to indicate where cuts are made for section representations and used to show motion or travel of machine parts, etc. (thin).
Dimension lines. Used to indicate length (thin), size, angles, etc. and includes a number and terminators (arrows or ticks).
Leader lines. Used to label things (thin like dimension lines) and includes a terminator arrow. Always horizontal near text and always bent to diagonal near object.
Extension lines. Used to extend from object to dimension line (thin). Must never touch object - leaving a visible gap to avoid confusing object with specification note (dimension). Plan to avoid crossing other extension lines and/or dimension lines.
Break lines (thin) are straight with a zig-zag-zig and are used to omit portions of an object.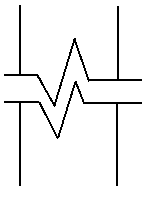 break symbol indicates omitted area

---
Art 214: Drafting and Design, Goshen College, Marvin Bartel, inst., file

© Marvin Bartel, all rights reserved

Goshen College students may print this page for their own use.
---

For permission to print, reproduce, or place this page on your site, e-mail: marvinpb@goshen.edu
Marvin Bartel, Ed.D., Professor of Art
Goshen College, 1700 South Main St., Goshen IN 46526
fax: 219-535-7660
top of page
| | Drafting and Design Course Home |  House Design Syllabus
Design Ethics | Drafting and Design Syllabus |   Assignments
|   Tests | Prices of materials | Soapdish Assignment | Journaling |
| Design concepts & Drafting Standards | Websites to see
| Time Saving Acad Hints | Answers to Questions | The Secret Purpose of Craft |
| Goshen College Art Department | Bartelart.com | Prices of Materials |
| Marvin Bartel Courses | Marvin Bartel Home | Bartel Artwork |