Tuesday, November 7, 2006
Goshen College's gospel choir, Voices-n-Harmony, to present fall concert Nov. 21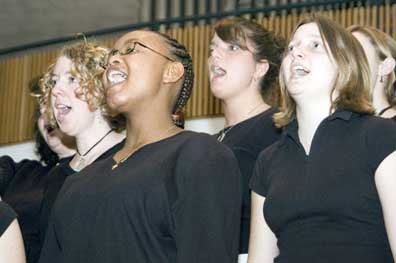 Concert: Voices-n-Harmony Fall Concert, "Praisin' His Name!"
Date and time: Tuesday, Nov. 21 at 7:30 p.m.
Location: Sauder Concert Hall, Goshen College Music Center
Cost: $6 adults, $4 seniors/students, available at the door. Goshen College students admitted free.
Web site: www.gcmusiccenter.org

GOSHEN, Ind. – Voices-n-Harmony, Goshen College's gospel choir, will take its spirited choral music to the Sauder Concert Hall stage in a performance on Tuesday, Nov. 21 at 7:30 p.m. The choir will be joined and enhanced by the Voices-n-Harmony Community Band – a group of local musicians that performs frequently with the choir, a performance by the Triple G Mime Group from South Bend (Ind.) and guest vocalist M.C. Pastor Marlon Reid of the Seventh Day Adventist Lake Region Church Conference.
Directed by Patrice Penny-Henderson of Elkhart, Ind., Voices-n-Harmony includes Goshen College students, faculty, staff and community members of diverse ages and cultural backgrounds who sing to proclaim the power of God's love. Voices-n-Harmony is an associate choir of the Goshen College Music Department, Community School of the Arts and Multicultural Affairs Office.
Penny-Henderson has worked with church and community choirs for 15 years in the Michiana area. She is currently an elementary music specialist in the Elkhart Community Schools as well as choir director at Agape Missionary Baptist Church in Elkhart. She holds a bachelor's degree in music education from Oklahoma University and a master's of education degree from Indiana Wesleyan University.
Tickets for the concert can be purchased at the door and cost $6 for adults, $4 for seniors and students. Admission is free for GC students with ID.
Editors: For more information about this release, to arrange an interview or request a photo, contact Goshen College News Bureau Director Jodi H. Beyeler at (574) 535-7572 or jodihb@goshen.edu.
###
Goshen College, established in 1894, is a four-year residential Christian liberal arts college rooted in the Anabaptist-Mennonite tradition. The college's Christ-centered core values – passionate learning, global citizenship, compassionate peacemaking and servant-leadership – prepare students as leaders for the church and world. Recognized for its unique Study-Service Term program, Goshen has earned citations of excellence in Barron's Best Buys in Education, "Colleges of Distinction," "Making a Difference College Guide" and U.S.News & World Report's "America's Best Colleges" edition, which named Goshen a "least debt college." Visit www.goshen.edu.