Tuesday, October 31, 2006
'The Marriage of Figaro' opera to be performed Nov. 3-12 at Goshen College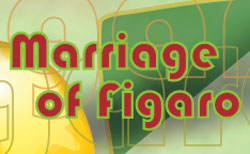 Opera: "The Marriage of Figaro" by Wolfgang Amadeus Mozart
Dates and times: Nov. 3, 4 (Performing Arts Series production), 10 at 7:30 p.m.; Nov. 5 (Performing Arts Series production), 11, 12 at 3 p.m.
Location: Umble Center
Cost: $12 for section A and B, $8 for section C
For tickets and more information: Call the Goshen College Welcome Center at (574) 535-7566

GOSHEN, Ind. – In commemoration of the 250th anniversary of Mozart's birth, the Goshen College Theater and Music Departments will be performing the composer's comic opera "The Marriage of Figaro" in Umble Center on Nov. 3 and 10 at 7:30 p.m. and on Nov. 11 and 12 at 3 p.m. In addition, concerts on Nov. 4 at 7:30 p.m. and on Nov. 5 at 3 p.m. are included in the Performing Arts Series.
"The Marriage of Figaro," combines the composer's characteristic melodies with a witty plot in which hastily improvised and absurd situations contrast to Mozart's beautifully crafted music. This production, featuring college student performers, is being stage directed by Assistant Professor of Theater Michelle Milne, music directed by Professor of Music Debra Brubaker and orchestra directed by Associate Professor of Music John Graulty.
"'The Marriage of Figaro' is filled with disguises, secrets and layers of maze-like twists and turns of the plot. Some of the characters know their way around the maze better than others," said Milne. "We hope the audience enjoys the twists, the turns, the playfulness and the politics, and the incredible musical genius of Mozart."
This production of the 18th century opera is set in the 21st century. "The tensions and joys between characters become more apparent, more real, more personal because the story is set in the present," said Brubaker. It will also be performed in both English and Italian. "This is a nice way of listening to a show in its original language while still being able to identify with the story line," added Brubaker. "Opera derives its energy from the multi-faceted nature of its production. And it's a wonderful way to tell a story, especially as we celebrate 250 years since the birth of a musical genius."
Several other notes of interest about this production:
Though all of the performers are undergraduate students and many are music majors, not all are (Figaro is played by a molecular biology major from Korea, Sae Chan Lee, for example).
Costumes are designed after current runway styles, with some interesting additions of color and detail thrown in.
The set is minimal, made up primarily of large fabric hangings that move to reveal more of the set as the show goes on.
The cast of 11 students includes sophomore Sae Chan Lee from Korea (as Figaro), junior Fjaere Harder from Mountain Lake, Minn., (as Susana), senior Brooks Gingerich from Aurora, Ore., (as Bartola), senior Adrienne Nesbitt from Goshen (as Marcellina), junior Sara Thögersen from Goshen (as Cherubino, the "pants role"), senior Ashe Abebe from Goshen (as Count Almaviva), sophomore Andrew Landis from Goshen (as Basilio), senior Rachel Nofziger from Archbold, Ohio, (as Countess Almaviva), senior Jessica David from Archbold, Ohio, (as Antonia), senior Luke Gingerich from Aurora, Ore., (as Don Curzio) and junior Karen Graber from Hurley, S.D., (as Barbarina).
The production staff includes Michelle Milne (stage director), Debra Brubaker (music director), John Graulty (orchestra director), Talashia Keim Yoder (choreographer), senior Nick Loewen (set designer), senior Katrina Maust (set designer), Nicole Miazgowicz (costume designer), junior Jonny Meyer (light designer, master electrician), junior Sara Thögersen (makeup designer), senior Kari Hunnicutt (hair designer), Jerry Peters (technical director), junior Laura Dentler (stage manager, master electrician), Doug Liechty Caskey (producer), Brian Mast (production manager), Philip Horst (acting and vocal coach), sophomore Emily Swora (assistant stage director, costumer), freshman Tim Blaum (assistant stage manager), freshman Taylor Stansberry (assistant stage manager), junior Lindsy Glick (master carpenter), senior Isaac Hooley (master carpenter), sophomore Deanne Binde (wardrobe master), senior Laurina Graber (props master), sophomore Joanna Landis (assistant costumer), junior David King (light operator), senior Cassie Greer (assistant technical director), sophomore Grace Magnan (assistant technical director) and sophomore Sarah Jensen (assistant producer).
The chorus includes freshmen Andy Brubaker, Holden Brubaker, Jenni Miller and Kevin Mulia, sophomores Grace Eidmann, Adam Schellenberg, Nathan Swartzendruber and Emily Swora, juniors Karen Graber and Tara Hershberger and seniors Sarah Buskirk and Kate Harnish,.
The orchestra includes Christine L. Seitz (rehearsal accompanist, harpsichord), sophomore Kaleem Kheshgi (principal flute), freshman Kristy Burkgren (flute), freshman Anna Pasquarello (flute), senior Amanda Entz (principal oboe), junior Kim Glick (oboe), sophomore Melanie Hershberger (principal clarinet), sopomore Tyler Falk (clarinet), freshman Mark Massey (clarinet), freshman Allen Shenk (principal horn), senior Anita Hooley (horn), senior Andrea Nussbaum (principal trumpet), freshman Johannes Stegmann (trumpet), sophomore David Kempf (timpani), senior Molly Buckwalter (concert mistress, violin), sophomore Leslee Smucker (violin), sophomore Becca Friesen (violin), sophomore Liz Beachy (principal violin), junior Hugo DeLuna (violin), senior Sarah Thiessen (violin), sophomore Leah Roth (principal viola), junior Elizabeth Buschert (viola), freshman Jeremy Good (viola), sophomore Peter Miller (principal cello), senior Tara Yoder (cello), freshman Maria Byler (cello), freshman Elena Histand (principal bass) and junior Jordan Swartzendruber (bass).
Tickets cost $12 for section A and B, $8 for section C. They can be purchased by calling the Goshen College Welcome Center at (574) 535-7566 or e-mailing welcomecenter@goshen.edu.
The first opera performed at Goshen College was in 1953, directed by then student Vance George, recently retired chorus director of the San Francisco Symphony Chorus. Presently, operas are performed nearly every other year, with the last one being "Die Fledermaus" in the spring of 2005.
Editors: Photographers can take photos of the actors and production on Wednesday, Nov. 1 at 7 p.m. in Umble Center. For more information about this release, to arrange an interview or request a photo, contact Goshen College News Bureau Director Jodi H. Beyeler at (574) 535-7572 or jodihb@goshen.edu.
###
Goshen College, established in 1894, is a four-year residential Christian liberal arts college rooted in the Anabaptist-Mennonite tradition. The college's Christ-centered core values – passionate learning, global citizenship, compassionate peacemaking and servant-leadership – prepare students as leaders for the church and world. Recognized for its unique Study-Service Term program, Goshen has earned citations of excellence in Barron's Best Buys in Education, "Colleges of Distinction," "Making a Difference College Guide" and U.S.News & World Report's "America's Best Colleges" edition, which named Goshen a "least debt college." Visit www.goshen.edu.