Tuesday, September 20, 2005
Goshen College traveling worship team offers diverse music and drama
GOSHEN, Ind. – In churches, schools and other places where Christians are gathered together, Goshen College's traveling worship group, Parables, offers unique worship involving drama and music. Featuring a diverse selection of hymns, ethnic and contemporary music sources, Parables leads worship that is poignant and even humorous, as the college students creatively connect with audiences through music, scripture, personal testimony and drama.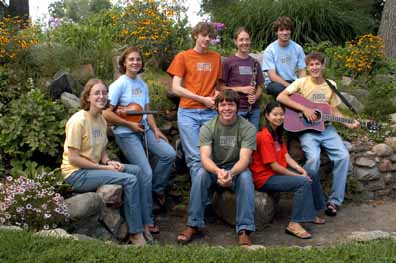 According to the group's director, Associate Professor of Music Jim Heiks, the name of the group was chosen because "parables are stories Jesus told and each of the eight students in the Parables ensemble also have an individual story to share. Their lives have been diverse, and each one offers a unique perspective on how Christ is working in their lives."
Director of Alumni, Parent and Church Relations Carla Friesen Weldy said, "Through their ministry of drama, scripture and song, Parables provides an avenue for Goshen College to serve the larger church. Their program has been described by congregations as 'delightful, refreshing and uplifting.' The group's greatest strength is the Christ-centered joy that comes through in their worship and how they authentically share their own personal faith development."
Heiks added, "Parables members share their faith and commitment through performance, and also through their informal interactions with the churches and youth groups they visit. Their diverse repertoire is representative of the diversity on the Goshen College campus, and offers inspiration for audiences from all backgrounds."
The group is directed by Associate Professor of Music Jim Heiks and includes Jessica David (Soph., Archbold, Ohio), Karen Graber (Soph., Hurley, S.D.), Mike Honderich (Soph., Goshen), Amanda Entz (Jr., Newton, Kan.), Jaron Caldwell (Soph., Goshen), David Bontrager (Soph., Archbold, Ohio), Cheryl Eunike (Sr., West Jakarta, Indonesia) and Jonny Meyer (Soph., Millersburg, Ind.).
Parables schedule:
· Sept. 25, 2005 – Shore Mennonite Church, Shipshewana, Ind., 9:15 a.m.
· Oct. 9 – Lombard (Ill.) Mennonite Church, 9:30 a.m.
· Oct. 9 – Madison (Wisc.) Mennonite Church, 6 p.m.
· Oct. 10 – Iowa Mennonite School, Kalona, Iowa, 2:40 p.m.
· Oct. 11 – Hopedale (Ill.) Mennonite Church, 7 p.m.
· Oct 23 – Florence Church of the Brethren, Constantine, Mich.
· Jan 13-15, 2006 – Camp Friedenswald High School Snow Camp, Cassopolis, Mich.
· Jan 29 – Belmont Mennonite Church, Elkhart, Ind.
· Feb 17-19 – Amigo Centre High School Snow Camp, Sturgis, Mich.
If churches are interested in inviting Parables to present, they should contact the Goshen College Church Relations office at (574) 535-7565.
Editors: For more information about this release, to arrange an interview or request a photo, contact Goshen College News Bureau Director Jodi H. Beyeler at (574) 535-7572 or jodihb@goshen.edu.
###
Goshen College, established in 1894, is a four-year residential Christian liberal arts college rooted in the Anabaptist-Mennonite tradition. The college's Christ-centered core values – passionate learning, global citizenship, compassionate peacemaking and servant-leadership – prepare students as leaders for the church and world. Recognized for its unique Study-Service Term program, Goshen has earned citations of excellence in Barron's Best Buys in Education, "Colleges of Distinction," "Making a Difference College Guide" and U.S.News & World Report's "America's Best Colleges" edition, which named Goshen a "least debt college." Visit www.goshen.edu.