Tuesday, August 19, 2003
Goshen College rated in 2004 "Most Interesting Colleges" Kaplan college guide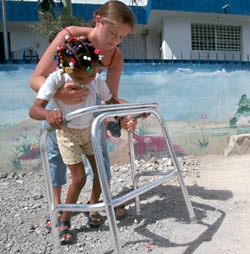 GOSHEN, Ind. – Goshen College has been recognized by Kaplan Publishing's new college guide, "The Unofficial, Unbiased Guide to the 328 Most Interesting Colleges" (2004 Edition).
Featuring new and unique information, including candid observations by current students and recent graduates about academics and social life at the 328 "most interesting colleges" of 2003-04 as well as valuable advice from nationally recognized experts, Trent Anderson and Seppy Basili.
The two-page, in-depth profile on Goshen College in the book begins by saying, "You know a college is different when one of its most popular majors is 'Peace, Justice, and Conflict Resolution.'" It goes on to give high marks to the Study-Service Term program: "GC is a long-established leader in international education,
offering a surprising number of study abroad options for a school so tiny
."
The guide mentions that the college's
pre-med program is "top-notch,"
with "graduates getting into graduate schools at twice the national average." In fact, in 2003 all GC applicants were accepted into medical school programs. The guide also praises the reputations of the
nursing
,
accounting
and
English
programs for their academic successes.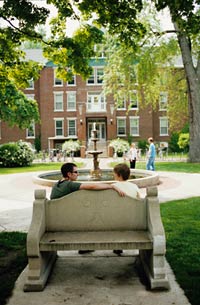 Several other features of the college which made it one of the "most interesting colleges" in the U.S. are the annual Frisbee football tournament, the
residence hall with high ceilings, original woodwork and balconies
and "perhaps the most unusual Goshen tradition is
SAP Day
: a festival-like occasion held on Groundhog Day."
Anderson's final impression of Goshen College was that "few schools can provide a more perfect match for premedical students and world travelers with a spiritual side."

Other colleges listed in the guide include: Berea College, Bryn Mawr College, Calvin College, College of Wooster, Earlham College, Emory University, Harvard University, Hope College, Massachusetts Institute of Technology and Wheaton College.

To capture the most up-to-date information about college admissions trends, Kaplan conducted a national survey of high school guidance counselors. In addition to statistical information, guidance counselors also shared insights about the colleges with which they were most familiar. Many of their comments were included in the book. The survey was conducted by Market Measurement, a national market research firm.

Goshen College is a national liberal arts college known for leadership in international education, service-learning and peace and justice issues in the Anabaptist-Mennonite tradition. Recognized for its unique Study-Service Term program and exceptional educational value, GC serves about 1,000 students in both traditional and nontraditional programs. The college earned citations of excellence in U.S. News & World Report and Barron's Best Buys in Higher Education. For more information, visit www.goshen.edu.

Editors: For information, contact Jodi H. Beyeler at (574) 535-7572 or jodihb@goshen.edu.