Thursday, August 11, 2005
Maple Scholars spend summer researching, studying, exploring with Goshen College
GOSHEN, Ind. – From banding birds to studying the decline in young people's interest in traditional news to identifying mutant transporters in yeast, students in the 2005 Maple Scholars program at Goshen College produced significant research across academic fields this summer.
Maple Scholars, an eight-week summer research opportunity for students to work side by side with Goshen College professors from various disciplines, offers the chance for significant independent research, in-depth projects and possible publication. Each scholar is paired with a faculty volunteer who works with the undergraduate to carry out their project.
The program was initially introduced in 1998 for students in the sciences – biology, chemistry, physics – but has expanded to students doing research in other disciplines such as art, communication and environmental studies as well. For students interested in graduate school, the opportunities for longer-term research and potential publication is an excellent experience and résumé builder. While many universities sponsor research projects, involving undergraduates in original research on a small liberal arts campus is unique and pays off for students seeking further education, as Goshen ranks in the top sixth among U.S. colleges for graduates who go on to earn doctoral degrees.
Suzi Arsenovic (Sr., Sint Pieters Leeuw, Belgium) researched and experimented with cold connections, mechanical methods of joining metal and non-metal materials, as they might be applied to jewelry or small sculptural forms. Her faculty adviser and Associate Professor of Art Judy Wenig-Horswell said, "She has discovered a variety of methods but has focused primarily on various types of rivets, tabs, fiber techniques and various combinations." The sample pieces and basic instruction sheets will be used in the beginning jewelry class. Arsenovic is a double major in art and psychology.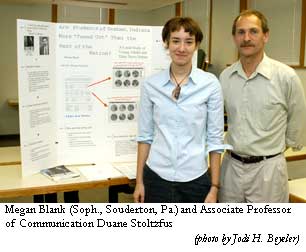 Megan Blank (Soph., Souderton, Pa.) worked with Associate Professor of Communication Duane Stoltzfus, on a research project that focused on the question of why many high school and college students and early professionals have little interest in following traditional news. The project was inspired by David Mindich's recent book "Tuned Out: Why Americans Under 40 Don't Follow the News." Said Stoltzfus, "Megan is developing a portrait of news consumption here at Goshen through a student survey and interviews. She will also present her findings next spring at a Goshen College conference on young people and the news." Blank is a communication and history double major.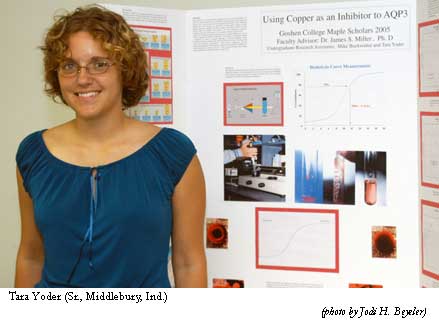 Mike Buckwalter (Soph., Goshen) and Tara Yoder (Sr., Middlebury, Ind.) studied membrane transport in red blood cells. "They have been studying water and glycerol transport across the red blood cell membrane and comparing these processes in birds and mammals," said Professor of Biology James Miller, their faculty adviser. Buckwalter also spent time working on another project with Richard Manalis, emeritus professor at Indiana University-Purdue University, Fort Wayne, Ind. Buckwalter is a physics major, while Yoder is a molecular biology and chemistry double major.
Cassie Greer (Jr., South Bend, Ind.), Nicole Miazgowicz (Sr., Temperance, Mich.) and Lindsay Nance (Jr., Winnipeg, Manitoba) spent the summer gathering personal narratives of a diverse group of women. The trio interviewed women from various cultures and walks of life, and then worked to develop a three-woman theater performance piece that will be presented Sept. 10 at Goshen College. "Right now in the professional theater world there is a major emphasis on group collaboration and ensemble work as a means of creating theater pieces that are new, innovative and unlike anything audiences have seen before," said Doug Liechty Caskey, their faculty adviser and professor of theater and communication. "The Maple Scholars program is enabling these three students to work at cutting edge theater while still being supported in the context of their own theater education." All three students are theater majors, with Greer seeking a double major in history.
Adrienne Landis (Jr., Akron, Pa.) spent the summer at the Merry Lea Environmental Learning Center, a nature sanctuary and environmental education center connected with Goshen College, to work with David Miller, program director and assistant professor of biology, and Lisa Zinn, volunteer coordinator and environmental education instructor. Landis conducted research on the bird communities at Merry Lea, contributing to a bird banding program as part of Monitoring Avian Productivity and Survivorship (MAPS), a national program studying bird productivity and survivorship. She also studied how Yellow Warblers and Common Yellowthroats respond to the presence of roads near their territories. Landis is an interdisciplinary major.
Christy Miller (Soph., Bellefontaine, Ohio) also spent the summer at the Merry Lea Environmental Learning Center, investigating the possible effects that prairie systems may have on soybean growing success. Working with LisaRenee English, assistant professor of biology, Miller prepared plots of land seeded with soybeans located at varying distances from a prairie, and then took weekly measurements of the soybean growth and success. She also worked with aphids and macro invertebrates. "Christy has done a great job with this project and has shown skill that is more often demonstrated by graduate students," said English. Miller is a biology major.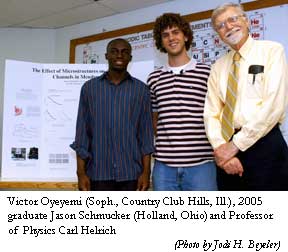 Victor Oyeyemi (Soph., Country Club Hills, Ill.) and 2005 graduate Jason Schmucker (Holland, Ohio) worked with Professor of Physics Carl Helrich to study the effects of membrane microstructures on the dynamics of ion channels formed by an antibiotic and a sterol. "We have been doing both experiments and theoretical – mathematical modeling – work," said Helrich. "We have evidence that shows a clear connection between the ion channels formed by the antibiotic nystatin and the form of the microstructures the model membranes that we study in our apparatus." Oyeyemi is a physics and mathematics double major; Schmucker will enter graduate studies in mechanical and aerospace engineering at Case Western Reserve University in the fall.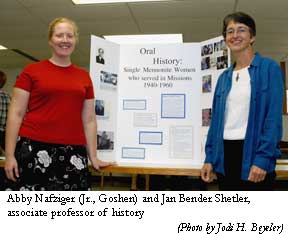 Abby Nafziger (Jr., Goshen) worked with Jan Bender Shetler, associate professor of history to research the lives of unmarried Mennonite women who engaged in missions from 1940 to 1960. As part of her senior seminar project in history, Nafziger interviewed former missionary women, who are now in their eighties and nineties, exploring why they entered faith-based service and the difference in societal roles when in other countries. Nafziger is a history and TESOL double major.
Johnny Amazan (Soph., Fort Lauderdale, Fla.) and Nathan McOwen (Jr., Elkhart, Ind.) were supervised by Stan Grove, professor of biology, in identifying mutant transporters in yeast. "These students have become experts at making media, growing yeast, making crosses between two strains and dissecting tetrads of spores to learn how genes of interest are inherited," said Grove. "The information will help us understand what molecular structure in the transporter proteins coded by the genes of interest provides specific recognition of the potassium ions transported." Amazan is a biology and chemistry double major and McOwen is a biology major.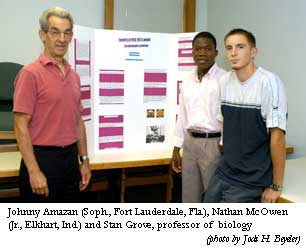 Rozalia Tadjer (Soph., Sofia, Bulgaria) worked under the direction of David Housman, professor of mathematics and computer science, to study partition function form cooperative value games. According to Housman, such games consist of a set of players and a numerical worth for each embedded coalition. "There is an infinite class of values that are efficient, symmetric, subsidy-free, proportional and additive," said Housman. Tradjer has been working to characterize this class of values in a new way. Tradjer is a business and mathematics double major.
Also working with Housman were four students from other colleges and universities. Juan Mendez (Purdue University-Calumet, Ind.), Nada Omer (Indiana University), Elizabeth Adenegan (Hope College) and Jesus Mediano (Massachusetts Institute of Technology) were supported by a grant from the Mathematical Association of America which seeks to encourage greater diversity in students going on to graduate school in the fields of mathematical sciences.
- Jennifer Rupp
Editors: For more information about this release, to arrange an interview or request a photo, contact Goshen College News Bureau Director Jodi H. Beyeler at (574) 535-7572 or jodihb@goshen.edu.
###
Goshen College, established in 1894, is a four-year residential Christian liberal arts college rooted in the Anabaptist-Mennonite tradition. The college's Christ-centered core values – passionate learning, global citizenship, compassionate peacemaking and servant-leadership – prepare students as leaders for the church and world. Recognized for its unique Study-Service Term program, Goshen has earned citations of excellence in Barron's Best Buys in Education, "Colleges of Distinction," "Making a Difference College Guide" and U.S.News & World Report's "America's Best Colleges" edition, which named Goshen a "least debt college." Visit www.goshen.edu/.