Tuesday, July 26, 2005
The secret life of microRNA: Bartel, 1982 GC alum, receives National Academy of Sciences Award for discovery
GOSHEN, Ind. – For Goshen native David Bartel, his current work in the research lab is a lot like his memories of his dad's ceramics studio.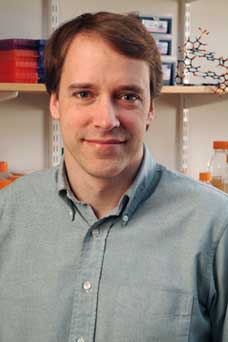 "You had complete freedom to do what you want there. You could go in that day and design an experiment and do it," said the 1982 Goshen College graduate. "The sense of accomplishment, the fun of making something new without quite knowing how it is going to turn out – research is very similar to when you're doing ceramics."
And for his work in molecular biology, international science organizations are recognizing his experimentation and creativity in the lab. Bartel was recently honored by the National Academy of Sciences with the 2005 Award in Molecular Biology, the French Academy of Sciences with the 2005 Louis D. Award and the Howard Hughes Medical Institute as a biomedical investigator.
The National Academy of Sciences award is accompanied by a $25,000 prize and has been presented "for a recent notable discovery in molecular biology by a young scientist" since 1962. "This is a huge honor," said Bartel. "When I look back at the previous recipients, I see many of the people that I've looked up to as the real innovators in molecular biology. It's very cool to be considered at least in this limited respect in the same company."
Bartel and his colleagues at the Whitehead Institute for Biomedical Research in Cambridge, Mass., have discovered hundreds of tiny ribonucleic acid (RNA) molecules that represent a class of gene regulators much more active in animal and plant development than previously thought. He is exploring how RNA molecules can act as catalysts and regulate gene expression in plant and animal cells.
"Because this type of gene regulation is so different from other types, it's a lot of fun to look at this and see how it works," said Bartel, who also teaches at the Massachusetts Institute of Technology (MIT). "You get a lot more surprises [which], as a research scientist, is much more exciting."
The prestigious honors are serious affirmation for someone who finds science to be fun.
Actually, it's because it was just more fun than other areas he might have studied. He appreciates his parents – Goshen College Professor Emeritus of Art Marvin Bartel and Delores Bartel, retired college nurse – for raising him to think differently, and creatively.
"Early on, [in my family] we were taught the evil of coloring books, which just have you color in someone else's drawings rather than make your own," David said. "That extended to everything. They positive reinforcement for pursuing our own ideas."
Bartel's professors at Goshen remember him for his "sharp, keen mind," strong reasoning skills and ability to explain his work. Professor Emeritus of Chemistry Don Clemens recalls feeling that Bartel could "go places." He said, "David has done an excellent job, obviously. You get good students and you help them along the way a little bit and they take off. You always push the good students a little harder."
Yet following graduation – not having had available lab research opportunities open to students in the sciences at Goshen today – Bartel wasn't focused on a vocation in research science. Before entering voluntary service with his wife, Jan Preheim '84, he worked as a hospital technician and on an Amish farm. After several years of community development work in Zambia, Bartel's journey led to Cambridge, Mass. In 1987, he began a post-graduate program at Harvard University in toxicology and public health; he later moved into molecular biology, and his professors gave him plenty of room to explore.
Bartel has applied his curiosity and creativity to work with microRNAs that can function to turn off other genes – including those that cause disease. These strands can be reproduced in the laboratory, which opens up potential for practical applications.
It's long been known that RNA serves as the "messenger" that creates proteins out of genes, but microRNAs can also stop protein from being made and "silence" – or turn off – certain genes during development, including ones that cause disease. Bartel's studies of catalysis have changed the way scientists think about RNA and evolution.
Bartel and his colleagues have discovered that these molecules are much more abundant then previously known, and regulate more than a third of human genes. He has also worked on guidelines for identifying and annotating microRNAs. According to the Howard Hughes Medical Institute's description of his work, "Basic understanding of gene silencing will enhance its usefulness as a tool for genetic studies and for gene therapy applications for a wide range of disorders." Bartel and several colleagues started a company to develop them for medical use.
His main interest continues to be learning how things work. At MIT, he found a perfect environment in which to do that. Fresh out of a doctoral program in 1993, he went to work in a lab of his own at Whitehead. Now a full member there, he has a staff of 20. Meanwhile, he is one of around 60 biology professors at MIT.
While the sheer numbers make it a very different place than his undergraduate campus, he's found many of his colleagues also come from small liberal arts colleges.
Stan Grove, Goshen professor of biology, said a recent national study shows that smaller schools produce a higher percentage of future doctorate-holders than large universities. Goshen College, for example, ranks in the top sixth of U.S. colleges for producing graduates who go on to earn doctorates.
Clemens agreed, saying that students attending small colleges "can have direct contact with professors who hold doctorates [and] get more attention here than at a big school."
Professors hope that current students are inspired by Bartel's accomplishments, and what his research might mean for the future creative exploration in the lab.
"In class, we're basically learning the history of science and preparing students to learn the new things. We want to give them the tools to make those discoveries like David is now," Grove added. "He is working in an area that he is thoroughly interested in and pushing the forefront of our understanding. That is what's exciting."
– Thomas V. Bona
Editors: For more information about this release, contact Goshen College News Bureau Director Jodi H. Beyeler at (574) 535-7572 or jodihb@goshen.edu.
###
Goshen College, established in 1894, is a four-year residential Christian liberal arts college rooted in the Anabaptist-Mennonite tradition. The college's Christ-centered core values – passionate learning, global citizenship, compassionate peacemaking and servant-leadership – prepare students as leaders for the church and world. Recognized for its unique Study-Service Term program, Goshen has earned citations of excellence in Barron's Best Buys in Education, "Colleges of Distinction," "Making a Difference College Guide" and U.S.News & World Report's "America's Best Colleges" edition, which named Goshen a "least debt college." Visit www.goshen.edu/.