Wednesday, July 7, 2010
College students engaged in varied summer research with professors
GOSHEN, Ind. – From exploring stress on honeybees to the relationship between math and music to the stories of stillbirth, 18 Goshen College students are spending the summer doing intense study and research during the college's eight-week Maple Scholars program.
Maple Scholars gives students the opportunity to participate in independent research projects alongside Goshen College faculty of various disciplines. Each scholar is paired with a faculty member who serves as both colleague and supervisor. It is running this year from June 6 to July 30.
The 2010 Maple Scholars: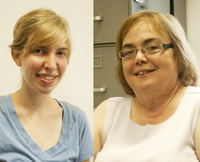 Julia Baker (senior, Fresno, Calif.), an interdisciplinary major, is working on producing a play called Heavenly Voices with Associate Professor of Communication Pat McFarlane. The play is based on oral histories of Mennonite women of color that McFarlane had previously collected.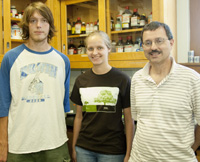 Mike Fecher (junior, Goshen), a Bible and religion and molecular biology/biochemistry double major, and Hannah Geiser (junior, Indianapolis, Ind.), a mathematics and biology double major, are working on a project about the impacts of the domestication of chickens with Professor of Biology Jim Miller.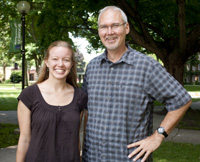 Christa Graber (senior, Hesston, Kan.), a history major, is working on a research project about Willard Krabill with Professor of Bible, Religion and Philosophy Keith Graber Miller. Krabill was the Goshen College physician for 24 years and was a pioneer and proponent of healthy sexuality and sex education for the Goshen community, the college and the Mennonite church.
Liz Gunden (senior, Chelsea, Mich.), an art major, is working on a mural painting project in the Goshen College Roman Gingerich Recreation-Fitness Center with Associate Professor of Art Randy Horst.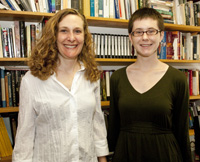 Chelsea Kaufman (senior, Racine, Wis.), an English and art double major, is working on a project of collecting stories of stillbirth, grief and hope with Assistant Professor of English Jessica Baldanzi.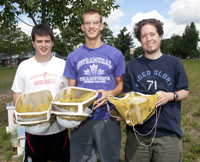 Peter Martin (sophomore, Goshen), a molecular biology/biochemistry major, and Greg Thiessen (junior, Austin, Texas), a biology and physics double major, are working on a project about the physiology and genomics of ethanol-induced stress in honeybees with Assistant Professor of Biology Andy Ammons.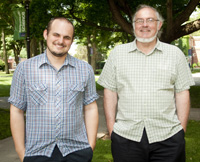 Caleb Mechem (junior, Decatur, Ill.), a Bible and religion major, is researching Biblical and Ancient Near Eastern perspectives on becoming human with Professor of Bible, Religion and Philosophy Paul Keim.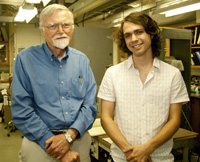 David Nyce (senior, Millbury, Mass.), a physics major, is investigating possible plasma physics experiments with Professor Emeritus of Physics Carl Helrich.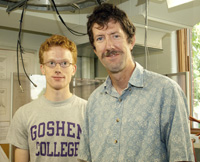 Abe Pauls (junior, Dallas, Ore.), a physics and math double major, is doing X-ray studies of calcite growth with Associate Professor of Physics Paul Meyer Reimer.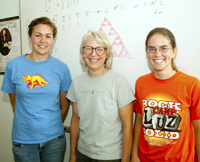 Lydia Short (2010 graduate, Kalona, Iowa), a music and math double major, and Sarah Rody (junior, Ely, Minn.), a math major, are investigating mathematics and music with Professor of Mathematics and Computer Science Patricia Oakley.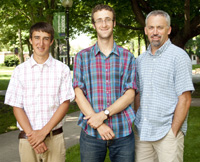 Chase Snyder (2010 graduate, Denver, Colo.), a communication major, and Luke Zehr (sophomore, Tiskilwa, Ill.), a biology major, are working on a project about the effects of deer herbivory on tall grass prairie forbs with Assistant Professor of Biology Ryan Sensenig.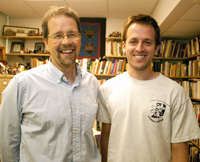 Jacob Swartzentruber (senior, Albuquerque, N.M.), a history major, is working on the Global Anabaptist Wiki project with Professor of History John D. Roth.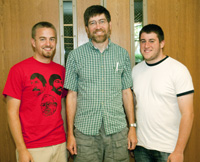 Zach Yordy (senior, Libertyville, Ill.) and Ben Toews (senior, Goshen), both physics majors, are researching real-time improvisational music program controlled by gestures with Professor of Physics John Ross Buschert.
The college's Maple Scholars program began in 1998 and unlike undergraduate research projects at larger universities, where students often work only with graduate students, students in Maple Scholars work with professors who can answer their questions and guide them in their research and learning. Students also get the chance to share their work together in a colloquium each Friday, and there they share their project and engage other students across disciplines.
Editors: For more information about this release, to arrange an interview or request a photo, contact Goshen College News Bureau Director Jodi H. Beyeler at (574) 535-7572 or jodihb@goshen.edu.
###
Goshen College, established in 1894, is a residential Christian liberal arts college rooted in the Anabaptist-Mennonite tradition. The college's Christ-centered core values – passionate learning, global citizenship, compassionate peacemaking and servant-leadership – prepare students as leaders for the church and world. Recognized for its unique Study-Service Term program, Goshen has earned citations of excellence in Barron's Best Buys in Education, "Colleges of Distinction," "Making a Difference College Guide" and U.S. News & World Report's "America's Best Colleges" edition, which named Goshen a "least debt college." Visit www.goshen.edu.