Monday, May 15, 2006
100 years of the Mennonite Historical Library offers hope for future in scholarship, and envisions new transition from North American to global scholarship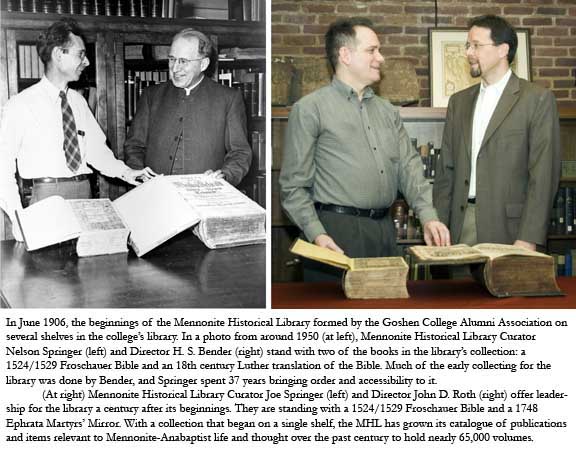 GOSHEN, Ind. – In its nearly 65,000-volume collection, the Mennonite Historical Library (MHL) couldn't claim an issue of "Glamour" magazine before this year.
But when John A. Lapp, coordinator of the Global Mennonite History Project and former dean and provost at Goshen College, opened his public lecture at the May 5-6 centennial celebration conference of the MHL, "Future directions in Anabaptist-Mennonite Scholarship," he contributed a unique piece of Mennonitica to the library's collection: an issue of the women's fashion magazine which featured Mennonite and Spelman College student Sarah Thompson, for which Lapp had paid $75 at a Mennonite Central Committee auction and which Thompson had autographed just for the MHL.
The contribution was quite different than those that would have been made at the start of the unique collection. In June 1906, just three years after the Elkhart Institute moved to a wheat field at the south end of Goshen and became Goshen College, the newly established Goshen College Alumni Association passed a resolution to create a collection in the college library devoted to Anabaptist-Mennonite history. Thus began the MHL, which took up residence on a few shelves of the college library.
As Lapp suggested in his lecture, much has changed in Anabaptist-Mennonite studies in the last 100 years. "Just to highlight some of these comparisons demonstrates the enormous task of comprehending the flourishing of Mennonite studies," he said.
Lapp first drew contrasts in describing the growth of Mennonite studies. In 1906, when Goshen College made the commitment to create the first Mennonite historical library in North America, there were only two North American Mennonites with graduate-level education who had done academic research and writing in Mennonite history: C.H. Wedel and C. Henry Smith. In 2006, nearly all Mennonite colleges and seminaries have on their faculty a scholar trained in Anabaptist and Mennonite history. As well, there are no less than 90 centers for collecting, studying and promoting Mennonite and Anabaptist studies in the U.S. and Canada, in addition to colleges and seminaries. And the growing impact of electronic media may be one of the biggest changes in the past 100 years.
The demographics of Mennonite identity have also changed considerably in 100 years, Lapp mentioned. In 1906, there were 75,000 Mennonites in North America and 230,000 Mennonites worldwide. In 2006, there are 400,000 Mennonites in North America and 1.3 million Mennonites worldwide.
As Mennonites have changed in the past century, so has the world in which they live and worship. In 1906, few Mennonites would have sensed that they were at the beginning of the century of total war; or understood what was coming economically and technologically; or known that the center of Anabaptism would shift from Europe to North America. "Early 20th century culture still basked in an optimistic outlook on life and history…often imbued with expectations for widening world peace and improving human well-being," Lapp said. "I suspect now at the beginning of the 21st century, in the midst of a deliberately aggressive war, the last vestiges of uncritical hope are disappearing. The tightening economic situation challenges the maintaining of our extensive institutional network, including resources for historical libraries."
Lapp's current work as coordinator of the Global Mennonite History Project has brought him into contact and conversation with many Mennonite historians around the world. "One of the major tasks for Mennonite studies in the future will be to find creative ways to broaden our tradition and to welcome new ways of expressing the tradition within the context of the new global majority," he said. "Just as Anabaptist-Mennonite scholars renewed the tradition in the early and mid-20th century, I believe our task is to revise how our tradition can be nurtured by scholars, teachers and pastors for churches rooted in the rich spiritual experiences and insights of the 90 conferences now located in nearly 60 countries. Each of us must see ourselves in relationship to one another creating a unique voice interacting with other Christian voices."
MHL Curator Joe Springer agreed with Lapp's assessment of the library's past and future roles. "We need to learn better how to track and acquire publications produced by Mennonite populations outside of Europe and North America," he said. "A significant part of MHL's value has been its ability to provide resources for researchers and writers working on topics useful for the ongoing life of the church – and collect the fruits of such work for others to consult. Our relevance will fade if we fail to vigorously pursue the coming explosion in materials written first in non-European, non-North American settings."
The two-day conference brought together more than 100 students, historians and Mennonite history enthusiasts, with attendees coming from Fresno, Calif., to Washington, D.C., as well as an attendee from Switzerland.
In addition to Lapp, the presenting scholars included Gerald Biesecker-Mast, associate professor of communication at Bluffton (Ohio) University, who spoke on "The Persistence of Anabaptism as Vision"; Theron Schlabach, professor emeritus of history at Goshen College, who spoke on "Mennonites, Amish and Related Groups in North America"
; Gayle Gerber Koontz, professor of theology and ethics at Associated Mennonite Biblical Seminary in Elkhart, Ind., who spoke on "Peace Theology in Transition, 1906-2006"; and Ervin Beck, professor emeritus of English at Goshen College, who spoke on "Mennonite Folk/Material Culture."
Responding to these scholars were Victor Hinojosa, assistant professor of political science, Baylor University, and doctoral candidates Troy Osborne, a 1994 Goshen College graduate (University of Minnesota), David R. Swartz (University of Notre Dame) and Janneken L. Smucker, a 1998 Goshen College graduate (University of Delaware).
Goshen College Professor of Bible, Religion and Philosophy Paul Keim attended the conference and found the theme of seeking authenticity running through these various interdisciplinary lectures and responses. "The origin of the movement with which we identify was predicated on a quest for authenticity. Anabaptism was a reform movement that understood itself to have recovered an authentic form of Christian faith and life," he said. "Similarly, the biblical, theological, historical and folkloric work reflected in the papers of the conference give expression to our ongoing desire to recover and nurture those aspects of belief and practice in deepest continuity with the tradition. The MHL is one of the institutions that helps us to consider Mennonite lives and Mennonite life of the past and reflect on how we might be authentic heirs of that witness."
Editors: For more information about this release, to arrange an interview or request a photo, contact Goshen College News Bureau Director Jodi H. Beyeler at (574) 535-7572 or jodihb@goshen.edu.
###
Goshen College, established in 1894, is a four-year residential Christian liberal arts college rooted in the Anabaptist-Mennonite tradition. The college's Christ-centered core values – passionate learning, global citizenship, compassionate peacemaking and servant-leadership – prepare students as leaders for the church and world. Recognized for its unique Study-Service Term program, Goshen has earned citations of excellence in Barron's Best Buys in Education, "Colleges of Distinction," "Making a Difference College Guide" and U.S.News & World Report's "America's Best Colleges" edition, which named Goshen a "least debt college." Visit www.goshen.edu.