Thursday, April 6, 2006
Parents offer prayers for people and places at Goshen College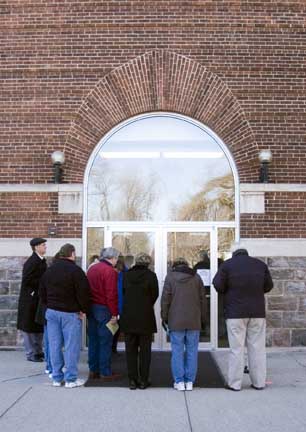 GOSHEN, Ind. – Though most parents of college students pray for their children individually, a number of parents of current Goshen College students came together with others recently to lift up their words of thanks and petition.
Goshen College's first Parents' Day of Prayer, which took place on March 18, gave parents of current students the opportunity to walk around the campus while praying for the faculty, students and administration that dwell, work and study in the buildings.
The theme for the day was thanksgiving — "thanking God for blessings already received and praying for continued blessing in the future," according to the day's planners Director of Alumni, Church and Parent Relations Carla Weldy and Interim Campus Pastor Bek Linsenmeyer. Though the idea of a day of prayer isn't unique to Goshen College, "we thought bathing ourselves in prayer would be beneficial to the life of our campus," Weldy said.
The group of parents and Weldy moved meditatively around campus, praying – as they felt led – for the campus as a whole and specifically for the lives of current and future students and faculty. "It was a holy hour and a half," Weldy said.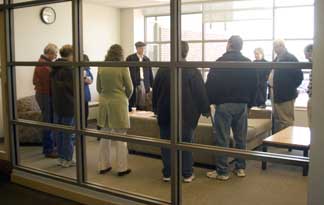 A worship service culminating the activities focused on reflecting about the day and sharing any personal insights into the experience. "We had a delightful time with each other walking around campus, reminiscing and heartily praying in a dozen different campus settings. To me, in this current world often deadened by excessive self-centeredness, there is nothing more strategic than investing loving prayer to invigorate any situation with heavenly influence," said Phil Shenk, a 1977 graduate of Goshen College and father of junior Nathan Shenk. "Next time a day of prayer is announced, I [will] invite a bunch more parents to get in on the investment."
Coinciding with the spring gathering of the Parents' Council, with the invitation extended to parents across the country, 11 parents participated in the prayer walk. "We weren't sure how many (parents) would come, but if just three people showed up, it would've still been worthwhile," she said. The Parents' Day of Prayer will likely become an annual event.
Students are also sensing a call to commit to focused prayer, as they are planning a week-long prayer event to be held April 10-14, with students, faculty and community members being encouraged to set aside time to pray for individuals on campus.
– by Sheldon Good
Editors: For more information about this release, to arrange an interview or request a photo, contact Goshen College News Bureau Director Jodi H. Beyeler at (574) 535-7572 or jodihb@goshen.edu.
###
Goshen College, established in 1894, is a four-year residential Christian liberal arts college rooted in the Anabaptist-Mennonite tradition. The college's Christ-centered core values – passionate learning, global citizenship, compassionate peacemaking and servant-leadership – prepare students as leaders for the church and world. Recognized for its unique Study-Service Term program, Goshen has earned citations of excellence in Barron's Best Buys in Education, "Colleges of Distinction," "Making a Difference College Guide" and U.S.News & World Report's "America's Best Colleges" edition, which named Goshen a "least debt college." Visit www.goshen.edu.