Thursday, March 24, 2005
Russell calls for 'mutually creative interaction' between science and religion during Goshen College conference
GOSHEN, Ind. – According to Robert Russell, the relationship between science and religion isn't about proving or disproving the other, but rather is, at its best, a "mutually creative interaction" where both streams recognize each other. "The conversation and dialogue is critical from both ends," he said.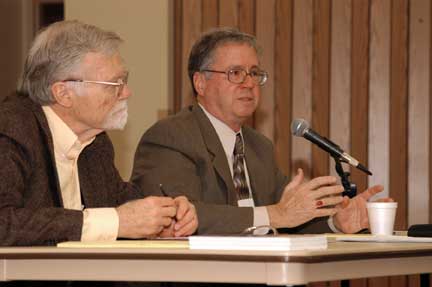 Fifty scientists and theologians from across the country met at Goshen College March 18-20 to further that dialogue at the Fifth Annual Goshen College Conference on Religion and Science. Guest speaker Robert Russell, founder and director of the Center for Theology and the Natural Sciences (CTNS) in Berkeley, Calif., gave a series of three lectures followed by multiple discussion sessions for participants. CTNS, a leader in the science and religion dialogue for more than 20 years, is dedicated to research, teaching and public service.
The conference, which is supported by the Miller-Jeschke Program for Christian Faith and the Natural Sciences at Goshen College, is a mission of Carl Helrich's, professor of physics and conference initiator. "One of the most important things we can be doing now is fostering this dialogue between science and religion," he said. "I think that the current climate has created a lot of extreme positions. This is an area where we can help find another way and to say 'let's talk about it together.'"
Russell – a physicist, a theologian and an ordained minister – opened the conference by discussing the role of theology and philosophy in relativity and in relation to theories regarding the universe's origin and structure, also known as cosmology. "Science rests upon a set of assumptions that we share in Christianity, and that don't exist in other religions," he said, noting how modern science arose in the convergence of two major streams of Western intellectual history: the Greek belief that the universe is rational and the Judaic claim that the universe is contingent, that it is completely dependent on a transcendent God as the sole source of existence.
Russell then examined the influence of philosophy and religion on Einstein's theory of space and time, which was initially constructed with a cosmological term in the equation. In the face of evidence of an initial time, which is now referred to as the "Big Bang," and an expanding universe, Einstein withdrew the term. Russell offered this as a striking example of the dependence of scientific thought on philosophy and on religion. Although Russell cautioned that we cannot claim with certainty that the Big Bang is evidence of the creative act of God, he said, "Contrary to the popular myth that science is atheistic or that religion is irrelevant to science, we now know from the history of the 20th century cosmology that philosophy and theology can play a creative role in science."
Life, Russell believes, is of incredible value, and the immense biological diversity of earth points decidedly to God who, working through the processes of nature, is its continuous creator and its final source of meaning and value. God shouldn't be classified into scientific equations, since this renders nature as God and is idolatry. "Not referring to God [in science] doesn't mean that God doesn't exist," he said.
With boldness, Russell also explored theodicy – the question of why there is suffering, pain and evil in the world – and the existence of natural evil. He reminded his audience that in the biblical account, all that God created was good, and then the Fall lead to suffering and death for humankind and nature. The evolutionary account claims that natural evil is not a consequence of an event, but just a part of the biological processes. Referencing to Augustine's "free-will" theodicy and Schleiermacher's "developmental" theodicy, Russell concluded that the best response to suffering in the world is eschatology and the hope of the "new creation" through Jesus. "The suffering Jesus on the cross is of no good to us without the resurrected Jesus," he said. "There is no hope for suffering if God isn't a part of it. God suffers with the world; God is about redemption, not about creating suffering."
To consider redemption, the present scientific claims about the future of the universe must be encountered. None of them – neither "freeze" nor "fry" – leave room for the general resurrection that the apostle Paul refers to in 1 Corinthians 15:12-20. If it is true that Jesus physically rose from the dead making general resurrection possible, then the future of the universe will not be what present science predicts, Russell said.
The resurrection is at the heart of Russell's Christian faith, and his hope is that "science can help me do theology better," and vice versa. Russell carefully developed the message that the reality of the resurrection has implications for the future of science. Science also speaks to our deeper understanding of theology. He claimed that instead of challenging science, the strictly philosophical assumption that what science predicts must come to pass does not need to be made.
Instead, if the future of the universe is thought about in theological terms, reconstructed in light of what the sciences tell us validly about the past and present of the universe, such a reconstructed eschatology might, in turn, offer new insights about the present creation, which could be fruitful for those engaged in scientific research, Russell continued. This would be an expanded scientific conception of nature inherited from eschatology, with the message of redemption and would be a central instance of creative mutual interaction between theology and science.
Russell is the co-author of eight books about science and theology, including his most recent "Resurrection: Theological and Scientific Perspectives" in 2002 and a five-volume CTNS/Vatican Observatory series on science and divine action.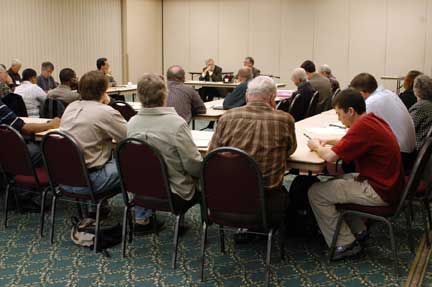 Conference participants from across the campus and the country enjoyed the intellectual and spiritual stimulation. "I think Russell has found a way of weaving his path in a helpful way and in very difficult terrain. I really resonate with what he has been doing," said Al Meyer, a retired Goshen College adjunct research professor of physics and former president of Mennonite Board of Education. "He is very familiar with the literature in physics and theology. There are very few people who have his level of understanding in both."
Goshen College senior Danny King of Danville, Ill., who is majoring in both physics and music, was one of the student participants. "For me as a Christian and as a scientist, this dialogue is important," he said. "It helps me see new ways to look at the theological concepts, new insights on life and its meaning. I find it very interesting."
Helrich appreciated "the way in which Russell has taken on the really hard problems in the science and religion dialogue," he said. "We cannot explain away natural or human evil in a universe that God has pronounced good. Nor can we seek understanding of the resurrection, the defining event for us as Christians, in present science. Russell encounters these problems and proposes new directions for scientific thought. This is courageous."
Goshen College, established in 1894, is a four-year residential Christian liberal arts college rooted in the Anabaptist-Mennonite tradition. The college's Christ-centered core values – passionate learning, global citizenship, compassionate peacemaking and servant-leadership – prepare students as leaders for the church and world. Recognized for its unique Study-Service Term program, Goshen has earned citations of excellence in Barron's Best Buys in Education, "Colleges of Distinction," "Making a Difference College Guide" and U.S.News & World Report's "America's Best Colleges" edition, which named Goshen a "least debt college." Visit https://www.goshen.edu/.
Editors: For more information, contact News Bureau Director Jodi H. Beyeler at (574) 535-7572 or jodihb@goshen.edu.
###