Friday, March 9, 2007
Ted Peters to highlight Goshen College Religion and Science Conference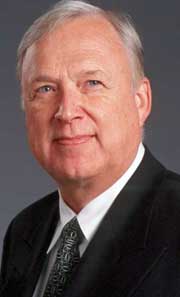 Lectures: Ted Peters, professor of systematic theology at Pacific Lutheran Theological Seminary and the Graduate Theological Union in Berkeley, California, and co-editor of the journal Theology and Science
Dates and times: Friday, March 16 at 7:30 p.m. and Saturday, March 17 at 10:30 a.m.
Location: Goshen College Church-Chapel
Cost: Free and open to the public
Website: www.goshen.edu/religionscience
GOSHEN, Ind. – At the seventh annual Goshen College Religion and Science Conference on March 16-17, the keynote speaker will be Ted Peters, professor of systematic theology at Pacific Lutheran Theological Seminary and the Graduate Theological Union in Berkeley, Calif. Peters, who is co-editor of the journal Theology and Science, will speak during lectures on Friday, March 16 at 7:30 p.m. and Saturday, March 17 at 10:30 a.m. in the Church-Chapel. The lectures are free and open to the public.
Under the overall theme of "Where in the world is God?," Peters will first speak on Friday night about "Finding God in the Crossfire of Atheism, Pluralism and Islam" and then on "Evolving Evil and the Theology of the Cross" on Saturday morning.
Peters has taught in the field of theology in the 20th and 21st centuries for both doctoral level students and for students preparing to serve in the ordained clergy. He is a Lutheran theologian – an ordained pastor in the Evangelical Lutheran Church of America – teaching in an ecumenical institution with students from an array of denominations. He also engages in inter-religious dialogue. Peters served as principal investigator for a research project funded by the National Institutes of Health on "Theological and Ethical Questions Raised by the Human Genome Initiative" hosted at the Center for Theology and the Natural Sciences, 1990-1994.
He is author of "Anticipating Omega" (Vendenhoeck & Ruprecht, 2006), "Science, Theology and Ethics" (Ashgate 2003), "GOD—The World's Future: Systematic Theology for a Postmodern Era" (Fortress 1992; 2nd ed. 2000), "God as Trinity" (Westminster/John Knox Press, 1993) and "Sin: Radical Evil in Soul and Society" (Eerdmans, 1994). He serves as editor-in-chief of "Dialog, A Journal of Theology" and as co-editor of the journal, "Theology and Science," published by the Center for Theology and the Natural Sciences at the Graduate Theological Union.
The annual Goshen Conference on Religion and Science is designed to provide maximum interaction with one of the principal thinkers in the dialog between religion and science. A single invited speaker presents three lectures, two of which are open to the public. Small, moderated discussion sessions provide conference participants an opportunity to address topics from the lectures, and others, in conversation with the speaker. Past conference speakers have included Philip Hefner, Robert Russell, John H. Haught, Antje Jackelen, George Ellis and Nancey Murphy. Conference participants include pastors and interested lay persons, as well as academic scientists, mathematicians, theologians and students.
Editors: For more information about this release, to arrange an interview or request a photo, contact Goshen College News Bureau Director Jodi H. Beyeler at (574) 535-7572 or jodihb@goshen.edu.
###
Goshen College, established in 1894, is a four-year residential Christian liberal arts college rooted in the Anabaptist-Mennonite tradition. The college's Christ-centered core values – passionate learning, global citizenship, compassionate peacemaking and servant-leadership – prepare students as leaders for the church and world. Recognized for its unique Study-Service Term program, Goshen has earned citations of excellence in Barron's Best Buys in Education, "Colleges of Distinction," "Making a Difference College Guide" and U.S.News & World Report's "America's Best Colleges" edition, which named Goshen a "least debt college." Visit www.goshen.edu.