Tuesday, March 8, 2005
Robert Russell to highlight Goshen College Religion and Science Conference March 18-19; Lectures free and open to the public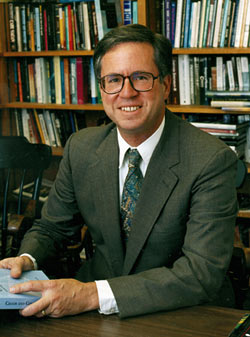 Lectures: Robert John Russell, Director of the Center for Theology and the Natural Sciences
Dates and times: Friday, March 18 at 7:30 p.m. and Saturday, March 19 at 10:30 a.m.
Location: Church-Chapel
Cost: Free and open to the public
Web site: www.goshen.edu/religionscience
GOSHEN, Ind. – During the annual Goshen College Religion and Science Conference on March 18-20, Robert Russell, founder and director of the Center for Theology and the Natural Sciences (CTNS), will be the keynote speaker during public lectures on Friday, March 18 at 7:30 p.m. and Saturday, March 19 at 10:30 a.m. in the Church-Chapel. He will be speaking about what is known scientifically of the origins of the universe and relating that to our understanding of God, as well as about evolution, the question of evil, salvation and the new creation. The lectures are free and open to the public.
Russell is a physicist, a theologian and also an ordained minister in the United Church of Christ. He received a master's of science degree in physics from University of California, Los Angeles, a master's degree from the Pacific School of Religion and a doctorate in physics from the University of California, Santa Cruz. In addition to founding CTNS in 1981, Russell is also professor of theology and science in residence at Graduate Theological Union in Berkeley, Calif., since 1992. He is the co-author of eight books about science and theology, including his most recent "Resurrection: Theological and Scientific Perspectives" in 2002 and a five-volume CTNS/Vatican Observatory series on science and divine action. Russell was the winner of a PCRS/Templeton Grant for Research and Writing on the Constructive Engagement of Religions and Science for his proposed book, "Time in Eternity: Theology and Science in Mutual Interaction."
The CTNS is a leading center in the science and religion dialogue for over 20 years, dedicated to research, teaching and public service. It focuses on the relation between the natural sciences including physics, cosmology, evolutionary and molecular biology, as well as technology and the environment, and Christian theology and ethics.
On his organization's Web site, Russell wrote, "The universe is more mysterious than either science and religion can ever fully disclose, and the urgencies of humankind and the natural environment demand an honest interaction between the discoveries of nature, the empowerment afforded us by appropriate technology, the inherent value of the environment, and the demand that we commit ourselves to a future in which all species can flourish. We can no longer afford the stalemate of past centuries between theology and science, for this leaves nature Godless and religion worldless. … Nor can we allow science and religion to be seen as adversaries, for they will be locked in a conflict of mutual conquest, such as 'creation science,' which costs religion its credibility or 'scientific materialism' which costs science its innocence."
Goshen College, established in 1894, is a four-year residential Christian liberal arts college rooted in the Anabaptist-Mennonite tradition. The college's Christ-centered core values – passionate learning, global citizenship, compassionate peacemaking and servant-leadership – prepare students as leaders for the church and world. Recognized for its unique Study-Service Term program, Goshen has earned citations of excellence in Barron's Best Buys in Education, "Colleges of Distinction," "Making a Difference College Guide" and U.S.News & World Report's "America's Best Colleges" edition, which named Goshen a "least debt college." Visit https://www.goshen.edu/.
Editors: For more information, contact News Bureau Director Jodi H. Beyeler at (574) 535-7572 or jodihb@goshen.edu.
###