Tuesday, February 6, 2007
Goshen College Concerto-Aria Concert featuring five student soloists and orchestra Feb. 10
Concert: 2006-2007 Concerto-Aria Competition concert
Date and time: Saturday, Feb. 10, 2007, at 7:30 p.m.
Location: Sauder Concert Hall, Goshen College Music Center
Cost: $6 adults, $4 seniors/students. GC students free with ID. Tickets are available at the door.
GOSHEN, Ind. – The annual Goshen College Concerto-Aria Competition Concert, featuring five outstanding music student soloists accompanied by the Goshen College Orchestra, will be in Sauder Concert Hall on Saturday, Feb. 10 at 7:30 p.m.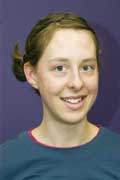 Senior Amanda Entz (Newton, Kan.), a music major, will perform the first movement of Beethoven's "Piano Concerto No. 3." Entz is a student of Matthew Hill and the daughter of Larry and Carol Entz. She is a 2002 graduate of Newton High School and attends First Mennonite Church.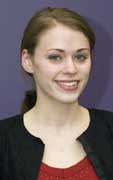 Sophomore and violinist Leslee Smucker (Goshen), a music major, will perform the first movement of Eduard Lalo's "Symphonie Espagnol." Smucker is a student of Solomia Soroka and the daughter of Greg and Barbara Smucker. She is a 2005 graduate of Bethany Christian High School and attends Berkey Avenue Mennonite Fellowship.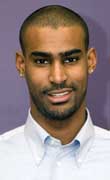 Senior and baritone Ashe Abebe (Goshen), a music major, will sing "Toreador Song" from Georges Bizet's opera "Carmen." Abebe is a student of Lee Dengler and the son of Zenebe and Barbara Abebe, of Fresno, Calif. He is a 2003 graduate of Goshen High School and attends College Mennonite Church.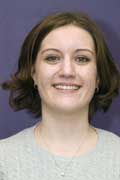 Junior and mezzo-soprano Sara Thögersen (Goshen), a music and theater double major, will sing "Una voce poco fa" from Giocchino Rossini's opera "Il barbiere di Siviglia." Thögersen is a student of Susan Dengler and the daughter of Chris and Hans Thögersen. She is a 2004 graduate of Goshen High School.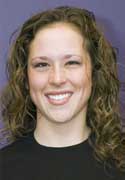 Senior and soprano Rachel Nofziger (Archbold, Ohio), a nursing major, will sing "Ah! Je veux vivre" from Charles Gounod's opera "Romeo and Juliet." Nofziger is a student of Susan Dengler and the daughter of Phil and Lori Bontrager. She is a 2003 graduate of the School of Creative and Performing Arts and attends Zion Mennonite Church.
The Goshen College Orchestra, directed by Associate Professor of Music John Graulty, will also perform Dmitri Shostakovich's "Festive Overture." The concert will be preceded by a 6:45 pre-concert in Sauder Concert Hall by the Community School of the Arts (CSA) Home-School Orchestra, directed by Rosalyn Troiano, program director of the CSA Strings Program. They will perform a variety of works from the Baroque through the modern era including works by Bach and Clementi, and arrangements of traditional fiddle tunes.
Tickets for the concert can be purchased at the door and cost $6 for general admission, $4 for students and seniors and free for GC students with ID.
Editors: For more information about this release, to arrange an interview or request a photo, contact Goshen College News Bureau Director Jodi H. Beyeler at (574) 535-7572 or jodihb@goshen.edu.
###
Goshen College, established in 1894, is a four-year residential Christian liberal arts college rooted in the Anabaptist-Mennonite tradition. The college's Christ-centered core values – passionate learning, global citizenship, compassionate peacemaking and servant-leadership – prepare students as leaders for the church and world. Recognized for its unique Study-Service Term program, Goshen has earned citations of excellence in Barron's Best Buys in Education, "Colleges of Distinction," "Making a Difference College Guide" and U.S.News & World Report's "America's Best Colleges" edition, which named Goshen a "least debt college." Visit www.goshen.edu.