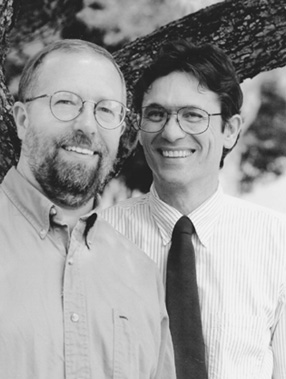 Screenwriting path leads from Goshen to Magic Kingdom for Yost and Kauffmann

For 10 years, Yost (below, left) and Kauffmann (right) have worked together to build a screenwriting bridge from the Midwest to Hollywood. Their Tinseltown dreams came true with "Miracle" which has opened other screenwriting doors.
Kauffmann said both he and Yost studied at GC "long enough to deserve doctorates." The two credit their GC professors with instilling in them a passion for writing and the tenaciousness to follow their dreams. In the meantime, Kauffmann's cartoon Pontius Puddle has had widespread church publication; Yost founded Bridgework Theater in Goshen.
How did your collaboration begin?
Joel – I was co-writing with a guy and a war was developing over writing "The Radicals." I didn't know enough about screenplay writing. I knew Don through a Goshen College writer's group and I asked him if he would come help work with me informally.
Don – We hit it off from the start.
Joel – We started in 1989 or 1990 and wrote a "loser-to-winner" story about a marching band in an inner city. That one was all primed to go in 1994. We had Howard Kazanjian who produced a Star Wars film ("Return of the Jedi") and Indiana Jones ("Raiders of the Lost Ark"). We had a director who was hot in the music video scene. The money was all raised. Then inexplicably, it all fell apart. We can't say to this day why.
What attracted you to Justin's story?
Don – Justin goes to our church (College Mennonite) so we knew him and his family. Joel found a clipping in the Goshen News – just a little picture of Justin. What drew us to "Miracle" was a family under pressure that found ways to transform an obstacle into something triumphant. When we started talking to the Yoders they said we couldn't tell this story without the church and their faith.
What role does faith play in your writing?
Don – Faith plays a big part in the stories we want to do. There are a lot of stories out there where we would say, "If you want that story written, go get somebody else to write it because I can't subscribe to that point of view."
Like "Die Hard IV"?
Don – Maybe that one would be OK. (laughs)
Joel – We are in an entertainment business. If we lose sight of that we won't be working no matter what we say or believe. We could write a film that doesn't champion our faith but we couldn't write one that counters that faith.
Where do you draw the line?
Don – Our first CBS movie is about a woman leaving the Amish for a man that she loves. Our first words into the phone to this producer were, "We don't want to be a part of anything that trashes the Amish." We wanted a story where this woman is as attracted to the Amish life as she is to this man that she marries.
Joel – We thought we could write this movie with a lot more sensitivity than anyone else could. The value base in Hollywood is that individuality always has to triumph over community and people are looking for conflict settled through definitive means. Nobody, not even Mennonites, wants a movie that ends with an acknowledgement that we were both a bit right or a bit wrong.
Is being Midwestern or Anabaptist a selling point in Hollywood?
Don – Choosing to work here has made things much more difficult. But the woman who first got interested in "Miracle" and hired us to do a CBS film is interested in us because we're from the Midwest and we have a religious affiliation.
Joel – And she vows if we ever move to Los Angeles she'll stop working with us. Writing is one-third skill, one-third relationships and one-third luck. The relationship and the luck come when you run into someone in the checkout line in Los Angeles. You wouldn't believe how many deals get done that way.
Is there a genre you prefer?
Don – I like working on true stories more than Joel, and I think he likes making things up.
Joel – I really like comedy. A lot of our ideas start out comedic and by the time Don gets involved somehow somebody's crying, needing to be redeemed or something like that.
Don – (laughs)
Joel – The best strategy for us is to be very versatile. We're writing a story of a woman who lost a child two years ago and goes to a deserted island to heal. There ends up being one other guy on this island – the New York policeman who shot her kid. There's a thriller component to it but it's more psychological, deeper, darker, a more painful thing.
What's next?
Joel – The CBS story will be shot in August.
Don – There's another story about a white teacher in South Carolina teaching a black student whose trailer burns down. The teacher takes the student into her home that night and she and her family ended up adopting that boy.
Joel – It's a story that taps both into present day political correctness in cross-cultural adoption and into the racial roots of that area.
Don – A third screenplay is a little ways from being locked in.
Where do you hope this career takes you?
Joel – When we first started we tried to figure out what success would be. The metaphor we came up with was a ladder and thought success would be climbing one rung at a time. We finally decided that's a horrible analogy. There are people who go to the top rung three weeks into the business. We've been on the second or third rungs many times and fallen to the bottom. We basically have spent 10 years trying to figure out why people haven't liked us as much as we think they should have and we've spent the last 10 months trying to figure out why everybody thinks we're so great.

Since seeing their lives on screen, life is calming down for derby family

Justin, played by Fox sitcom "Malcolm in the Middle" star Frankie Muniz, gets lead billing in "Miracle," also starring Rick Rossovich and Molly Hagan. But the film attends to the feelings of all four family members as they find ways for both Justin, now 13, and Seth, 17, to succeed and feel appreciated. Seth, the family sports star, has a roomful of trophies, which Justin envies. Yet Seth feels that his father spends too much time working three jobs to pay for Justin's health-related bills.
Through conversations with God and interaction with gruff neighbor Vic Sauder (a character loosely based on Vic Koop, GC professor of psychology), Justin discovers soap box racing as an area of competition in which he can excel. However, the time and effort the family gives to racing is tough on Seth. In the film version, Seth and Justin reconcile just before Justin wins the national soap box derby.
While some true life details were changed for the sake of Disney storytelling – Justin raced in, but did not win the national derby, for example – the film does accurately depict the Yoder family working through their problems. They hold their breath during Justin's hospitalizations and work through sibling rivalries.
The movie showed your family, warts and all. How did you feel about putting your lives on screen?
Sheila – At first Seth was much more hesitant.
Justin – And at first I thought, "Oh, awesome. This is going to be great." Now I'm like, "Hmmm, I don't know if I want people to know this."
Seth – I'm not a guy that likes a lot of attention and this sure did give me attention. How it seems a lot is that I'm just the brother of the guy in the movie, the guy in the wheelchair. Maybe not everybody understood my character's side of the story, but maybe some people did.
Sheila – We felt the family was shown as an ordinary family, like most families with a person with disabilities. We want to do ordinary things and have an ordinary life even with extraordinary circumstances.
The movie didn't show as well how the community helped us, both College Mennonite Church and Goshen too. The guy who made the hand brake (Jim Boshart, father of Tim Boshart, GC's educational technology specialist) was from the Exchange Club. Of course, Vic Koop had an important part that didn't come out as much in the movie as we would have liked it to.
Seth – Extended family were a big part of this. Grandpa (Wayne Stopher) made the car.
Tell me about the actors who played you?
Justin – Frankie Muniz was kind of quiet, nothing like I imagined him. My brother's actor (Patrick Levis), he was a Christian and right away we clicked. I never saw the guy who played Vic (Roger Aaron Brown) in a bad mood.
Sheila – One night Frankie came to our hotel room. Here's this actor, this star, and he was bored. So we played cards and got out the hotel's shampoo bottles and used them to play spoons until 11 o'clock at night – 2 a.m. in Indiana.
What role does faith play in this whole story?
Myron – We constantly depend on our faith and church to get us through. We pray that God is with us through all our life experiences.
Sheila –What has happened is really amazing, but we're not amazing people. Somehow God caused this to happen. My faith is stronger but I still have these questions about how God works in our lives.
The movie climaxes with a happy ending. Is everything perfect now?
Justin – Oh no. Maybe it's just more maturity, but me and Seth are getting along a lot better than before. In the beginning, Seth didn't want to help. In Akron, in 1999, he was actually around me, interested, asking questions, wanting to help.
Sheila – So he was probably proud of your achievements?
Justin – (laughs) I didn't say that, I just said he was around me.
Seth – I've kind of stayed out of the soap box derby thing and let that be theirs. I go there to watch sometimes, but that's about it. There's not really jealousy either way.
What has been the biggest change in your lives since the movie aired?
Justin – Autographs. I've signed plenty. Mostly at the premiere, but I was at a baseball game in Goshen and a whole softball team ran up to me.
Myron – Someone recognized us in an airport in St. Louis, at a swimming pool in the Cayman Islands and on a boat in the Caribbean. There were 20 people on our boat and one of them said, "Are you the Yoders? Is this Justin Yoder from the movie?"
Justin – And we were supposed to be on vacation.
Seth – All the attention helped me open up. I had to stand up in front of my school and talk about the movie. It was hard to do at the time but it's helped me be more outgoing.
Are you still racing?
Justin – We're taking a break this year. I should have gone to nationals three times but the first was '96. (Note: Justin first qualified for national competition in the 1996 All-American Soap Box Derby but health problems put him in the hospital for more than a month instead, and a substitute raced in his place.)
Myron – Justin can go to nationals again if he qualifies in what's called rally points. But can you imagine how exciting it's been here? This downtime has allowed me to take a breath and get on with life.
Sheila – Mundane is kind of nice. We've had four wonderful years.
Justin – Going on five.