The art of nursing education

In a March 2003 letter to the Goshen College Nursing Department, Diane (Gerber) Eigsti Gerber '63 recalled a day in chapel in 1962 when then President Paul Mininger announced that the nursing program had received full accreditation from the National League for Nursing Education (NLN).

Gerber, who currently serves as statewide coordinator at the Tennessee Department of Health for one of the Centers for Disease Control and Prevention's Emerging Infections Program, FoodNet, said, "Just as I began my studies, [Goshen's] B.S.N. program became accredited. At the time I did not understand the significance, but early in my career I realized how incredibly fortunate I was. I knew that at Goshen I was in a nursing program that demanded the best in its students. I graduated with a belief that I had received an excellent education and that exciting adventures were ahead of me."

Since establishing the first baccalaureate nursing program in Indiana, Goshen College had sought accreditation from the NLN, operating under temporary and then provisional accreditation status under the leadership of nursing professor Orpah Mosemann. Goshen's nursing program was making its mark prior to the accreditation – and continues to impress accrediting bodies 50 years later.

Established after World War II, Goshen's nursing education program attracted interest from students and professionals for its holistic quality: a liberal arts foundation, with excellent nursing training and an emphasis on service. Mosemann had been appointed in 1952 by Indiana Governor Henry F. Schricker to serve on the State Board of Nurses' Registration and Nursing Education. Also in 1952, at an Indiana State Nurses Meeting, Goshen was identified as having an exemplary program "which may merit study on the part of other educational institutions as a prototype for developing collegiate schools."

Gerber cites nursing professors Mosemann and Anna Mae Charles as influential in her undergraduate years. She became intrigued by public health issues, and went on to earn a master's degree in public health nursing at Tulane University School of Public Health and do doctoral work in specialized study in community health at Walden University.

"I believe that my solid liberal arts education combined with my undergraduate and graduate nursing education provided me with the foundation to move in a number of directions within the practice of nursing," said Gerber. "I am able to use all of the skills that I have learned in my past positions – including writing, teaching, supervising, collaborating, coordinating and creating. I have never been sorry that I made the career choice that I did and am grateful for the role models that I had in nursing."
Preparing nurses to serve patients, families and communities
Curriculum for the nursing program was reviewed frequently by department faculty, resulting in revisions throughout the decades and responding to constantly evolving healthcare needs and environments as well as advances in technology that required nurses to add new skills and knowledge. Nursing students needed faculty with diverse gifts to understand the different needs of patients and their families and communities.

Associate Professor Emerita of Nursing Anne Hershberger '58, who served on the nursing faculty for a total of more than 30 years since the mid-1960s, said the department has had, over the years, "a very dedicated faculty who take their work very seriously and enjoy what they're doing. They have instilled this same passion in students."

She continued, "In my experience, each nursing faculty member has had different gifts not only in clinical expertise – that's a given – but a variety of interests so that students were exposed to faculty who were strong clinicians, teachers, counselors or persons engaged in reaching out to the community."

As with other areas of campus life, close involvement of faculty in the lives of their students has increased the satisfaction and success among nursing students. Hershberger said that through laboratory practice and clinical supervision particularly, faculty come to know students' strengths and "see possibilities that the student might not have thought of for their careers, and tap them on the shoulder."

In addition to its care for students' overall college experience and careful scheduling of courses, the nursing department has also worked around changes made to the college's core liberal arts curriculum, or general education requirements.
Nursing students, as all GC students, began taking international education requirements – often through Study-Service Term, which began in 1968-69 – bringing cross-cultural experiences in communication and service and afforded a glimpse of health care in other countries.

Enrollment climbed in the nursing program through the 1970s, peaking in the latter part of that decade and into the early '80s, when national health care trends were changing, bringing challenges for nursing education. In the late 1980s, the clinical practice model – an important innovation in teaching methodology – was initiated, and Goshen was the only nursing school involved in a pilot project group implementing the model nationwide.

In the 1990s, two nursing endowments were started to support the program. Also in the 1990s, responding to needs of new populations of students, Goshen initiated a new learning model for registered nurses who wished to earn a bachelor's degree to increase their knowledge base and perhaps pursue more professional options among the many career avenues and leadership opportunities available to nurses with a B.S.N.

In 1993, for the 40-year celebration of nursing education at GC, the Mennonite Health Association recognized the department with its Organizational Award of Merit, presented for "outstanding achievement in providing over 40 years of excellence in Christian nursing education, with many graduates giving dedicated professional service in healthcare agencies and church-related programs at home and abroad."

In the latter part of the 1980s and into the next decade, enrollment in the nursing program decreased, going back to levels not seen since the 1950s. Prior to that time, Goshen offered the only baccalaureate program in nursing in the region; competition came from at least two programs initiated in the area, and an increase in the number of schools offering associate degrees in the area. The changing nature of the profession, a change in perception and reality of vocational opportunities open to women and challenges for healthcare systems and providers all contributed to the lessening of interest in nursing careers.

To address falling enrollment, the department has worked with state and national efforts by healthcare systems and professional nursing organizations to educate students of all ages about the vast opportunities available for those with a nursing degree. Enrollment improved in the early '90s, then fell again toward the end of the decade. In 2001, the American Association of Colleges of Nursing reported a decline of 4 percent in enrollment in nursing programs over a six-year period.

Current numbers, however, reflect not only an increase nationally in nursing as a career, but efforts by the department, led by Director of Nursing Vicky Kirkton, in identifying and recruiting nursing students. There are currently 90 students enrolled in the program – an increase of more than 20 percent from last year.
Measurements of excellence
Efforts to constantly make useful and relevant improvements to the nursing curricula affects students not only in how they are prepared to practice the profession, but in how they score on the NCLEX® licensure exams, with oversight from the National Council of State Boards of Nursing – required to practice professionally.

Said Hershberger, "Excellence has been not just a goal, but an expectation. Graduates have moved into all kinds of different areas vocationally, and I have seen a pattern of excellence emerging in so many of them."

In the life of the program, the rate of Goshen nursing graduates who pass the NCLEX® has remained strong. For two years in the mid-1990s, the pass rate dipped below the national average, but in the past five years the program regained its strength – surpassing the national average on the NCLEX® by as much as almost 20 percent in 2001, when 100 percent of Goshen graduates passed the licensure test. In 2002, the national pass rate was 81.57 percent while GC nursing students achieved a 94 percent pass rate. Over the past five years, the pass rate was 94.67 percent. Kirkton said the 2003 scores are still being measured; some have already passed and found employment.

Not only are students under review for their professional knowledge and practices for licensure. Every nursing program is required to be approved by its state board of nursing. In October of 2002, Goshen College's nursing program was given a 10-year initial accreditation from the Commission on Collegiate Nursing Education (CCNE) after preliminary approval was granted in 1998 from the accrediting body devoted exclusively to the evaluation of baccalaureate and graduate degree programs in nursing.

The CCNE evaluation team that reviewed Goshen's program determined that not only did the nursing program meet all four accreditation standards, but, as stated in a letter from the CCNE Board of Commissioners, that "there are no compliance concerns with respect to the key elements."

The report stated that "Alumni satisfaction and the accomplishments of graduates in the program attest to the effectiveness of the program. Faculty accomplishments in teaching, scholarship, service and practice are congruent with the mission, philosophy and goals/objectives of the program and with professional nursing standards and guidelines."

The results of a survey distributed in preparation of the CCNE evaluation team visit to nursing program alumni – now totaling more than 1,600 – revealed an over-all alumni satisfaction rate of 89 percent. Verbal and written comments were very positive regarding the quality of the program, support provided by faculty and pride in being a Goshen College graduate.

On a survey of those who have hired Goshen nursing graduates, employer satisfaction rate was 2.71 on a 3-point scale. In conversations, reported the CCNE evaluation team, "employers indicated high satisfaction with the quality of students. Employers also indicated they prefer hiring Goshen graduates because they are above average communicators, have a strong sense of values and culture and are good critical thinkers. The graduates were also described as more self-confident than other new graduates, which employers partially attributed to the SST experience."

Said Kirkton, "Not only are our nursing students well prepared to take their licensure exams after a four-year B.S.N. program, but they are sought after by employers. Heathcare facilities that hire Goshen nursing grads said in a survey recently that Goshen nurses have a great reputation, they are critical thinkers, excellent communicators and provide sensitive cross-cultural care. Employers also said that if they had three nursing graduates who were equal in preparation and in all other aspects they would select the GC nursing grad because they are a cut above the rest!"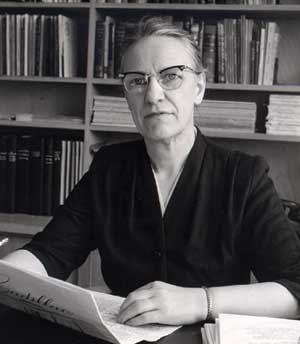 PR Archives
Orpah Mosemann's vision for Goshen's nursing program laid a foundation for excellence.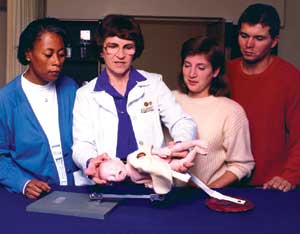 Nursing Dept.
Associate Professor Emerita of Nursing Anne Hershberger discusses infant care in the 1980s.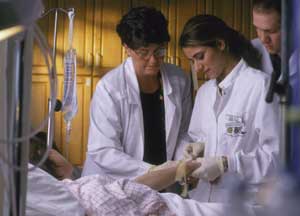 Stephen Allen
Director of Nursing Vicky Kirkton (left) led the department to a 10-yaer accreditation last year by the Commission on Collegiate Nursing Education.