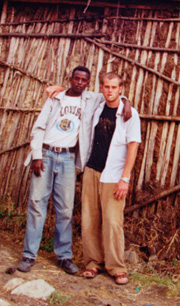 Embracing Ethiopia
Ethiopia SST
SST in Ethiopia is a handclasp. The Goshen College group that spent January to April in Ethiopia - the first GC group to visit the eastern portion of the continent - brought students from a Western civilization to the sole African nation that has not been colonized. It connected a population of Swiss-German or Russian Mennonites with a burgeoning Ethiopian church. And it gave students a new understanding of culture, Christianity and relationships as they walked hand-in-hand, literally, with newfound friends. SSTer John Kliewer (Sr., Newton, Kan.) said it was common to see two businessmen, in conservative suits and ties, holding hands as they walked down the street.
"Construction workers, who in our culture are stereotypically affectionless - they would hold hands," Kliewer said. SST leader Zenebe Abebe, vice president for multicultural affairs, said that physical mannerism is just a fingertip in the body of cultural differences that exist between Ethiopia and the Western world.
"This is a country that has never been colonized. Therefore, there is a deep cultural difference from any other country," Abebe said. "Ethiopia is an island sitting by itself for 3,000 years with it's own traditions, calendar, language and lifestyle - all non-Western."
Added Kliewer, "Over thousands of years, very little has changed, not only technologically, but socially, religiously. They were more human - closer to the natural human state, while we (in North America) have gone farther away from that with our technology and lifestyles."
The richness of Ethiopian heritage is evident, and aural. Emily Hershberger (Jr., Portland, Ore.) described a walk down an Addis Ababa street, listening to chanting from mosques, drums and masinkos (lute-like instruments) from Orthodox churches and the shouts of gari drivers (taxis) and marketplace vendors.
"This was a completely new culture [for me]. They had a different way of doing things. They had a different way of thinking about things," Hershberger said. "You become very much aware of how your culture determines who you are. When you are completely unfamiliar with everything around you, you have to discard your assumptions."
Abebe, a native of Ethiopia adjusted to leading an SST unit by himself, with the help of his sister, who lives in the capital city, Addis Ababa, and others. He credits the continuing growth of the MKC church with helping him find willing host families quickly and easily.
"I had been gone for 30 years," Abebe said. But the memories quickly returned. "Addis Ababa is a four-million person city, and it soon seemed like I knew everything there. Everyone wanted to help me. They thought I was doing them some favor by bringing students there."
Because tourism has not boomed, firenge - foreigners - on the streets, even in the capital of Addis Ababa, remain relatively rare.
"We had opportunities that wouldn't have been available to us had tourism been more of a reality," said Magdalen Hess (Sr., Leola, Pa.). "The world really doesn't pay very much attention to Ethiopia. We were Americans who were paying attention."
Haile Gebrselassie, 10,000-meter world record holder, two-time Olympic gold medallist and 1998 International Amateur Athletic Federation athlete of the year, hosted the group for a two-hour chat. And Afewerk Tekle, the Most Honorable Maitre Artiste World Laureate and Ethiopia's leading artist, welcomed the SSTers into his studio and home.
Kliewer said those interactions simply reflected the Ethiopian emphasis on relationships, whether by prominent citizens or the not so famous. He developed a relationship with a half-dozen unemployed men who spent their days hanging around across the street from his school in Nazareth.
"One of their greetings was, 'Nuro in dehet naw?' ('How was life?') I would say, 'Good,' and ask them," Kliewer said. The men had complaints - they were poor and didn't have much food - but Kliewer said, "Life was still great because they had each other. They had friends. They had place. They had a home."
The 13 weeks in Ethiopia changed Hess' future plans. The interdisciplinary major, focusing on women's studies, peace, justice and conflict studies and English, interviewed three young women working as prostitutes, learning about their lives and their struggles as part of her research project.
"That experience taught me that if I'm going to be interested in these people's lives, in order for it to be an authentic exchange, I have to give them something back," Hess said. After she graduates in May, she plans to start over in college and become a nurse as a way of offering something of herself to others.
That notion of service connected with Christianity in Ethiopia - the only Christian nation in East Africa's sea of Islam. The Protestant church, especially the Mennonite Meserete Kristos Church, emerged as a vibrant and mushrooming entity after years of intense persecution by a Communist government, which imprisoned and sometimes executed Christians who were not part of the state-sanctioned Orthodox church. That potential martyrdom may have played a role in the incredible growth of the MKC, which numbered 5,000 when outlawed in 1982 and 50,000 when the Communist reign ended in 1991. The church continues to grow by about 20 percent each year.
Several students heard first-hand how persecution impacted faith.
While in Nazareth, Aster Debosse, the Nazareth host mother of Aaron Lehman (Jr., Goshen), told him of a time when she and other prisoners awaited execution during one of three periods of incarceration. The local prison commander had traveled to another town to receive permission to execute his religious prisoners, including Debosse, who was one of the original nine Ethiopians to be baptized into the MKC church. After receiving the go-ahead, the commander returned home along a road that Lehman said looked like the trails through an Arizona desert - hardly a tree in sight. But the commander somehow drove his car off the road and struck one of the rare trees; his injuries were fatal.
The Nazareth Christians counted this accident as a miracle - one of several similar miracles that occurred across the country.
Hershberger's host father in Addis Ababa also was imprisoned three times during the Communist years; the authorities once beat him so badly that, for a time, he could not walk.
"The Ethiopians could write their own Martyrs' Mirror - only it is very recent history. They are living out this Anabaptist saga that we think of as history," said Hershberger. "When does faith become most important to people? When you are going through a time of trial and persecution and need something to cling to. ... Because they didn't compromise, they have more of a real sense of who they are and how they live their lives."
Those lives, students reported, included charismatic worship services, frequent prayer meetings, cell groups that meet in homes and a separation from mainstream Ethiopian society reminiscent of North American Mennonites of generations past. In part, that separation is due to continued fear; many Protestants, still try to avoid the government at all costs, to the point that some do not vote.
But faith experiences within the group were not limited to Ethiopian expressions. The students on service in Nazareth, dismayed about missing Easter in both countries - the Ethiopic calendar celebrates Easter in May, after students returned home - hiked up a mountain overlooking Nazareth early in the morning of March 31, Easter in the West. There, high above the city, they watched the sun peek over the horizon and sang hymns, uniting the faith of their culture with the magnificence of another land.