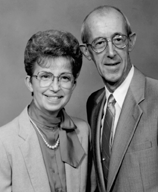 Stanley '48 and Arlie Hershberger Weaver '50
In 1951, Stanley '48 and Arlie Hershberger Weaver '50 followed a call to the desert in the American Southwest. Fifty years later, following a quarter-century of working with the Navajo people, as well as pastoral assignments in Arizona, Iowa and Nebraska, they returned to the region to which they were called.
The Weavers led voluntary service units among the Navajos for three years in the 1950s before becoming missionaries and church planters in New Mexico and Arizona. Part of their service was at a reservation homeless shelter - Stanley worked with men and Arlie with women. Arlie also taught pre-school children for the Bureau of Indian Affairs in Chinle, Ariz.
Stanley served as Southwest Mennonite Conference Overseer from 1973 to 1985 while pastoring Sunnyslope Mennonite Church, Phoenix, Ariz., from 1975 to 1985; Arlie taught disabled children in the Phoenix area, earning a master's degree in special education from Northern Arizona University in 1975.
Stanley accepted interim pastorates in Milford, Neb. and Wellman, Iowa, and both worked to plant a church at Burlington, Iowa, while working as adult literacy tutors.
Having returned to Phoenix in 1994, Stanley is an active administrative secretary at Sunnyslope. Arlie chairs the church life commission. Both continue as literacy tutors while Arlie also volunteers at a homeless shelter and works with developmentally disabled children and at the House of Refuge Shelter for homeless.