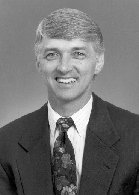 Roger N. Beachy '66
Roger N. Beachy '66, president and director of the Donald Danforth Plant Science Center, St. Louis, Mo., spends many of his days infecting plants with viruses to make them stronger. His research led to the first genetically engineered food crop - a viral-resistant strand of tomato - in 1987. Further research, leading to 10 biological patents, has created rice and cassava crops with improved disease resistance used in developing nations.
Beachy's commitment to teaching Christ's command to love your neighbors and his devotion to researching sustainable food production and agriculture led him to found the International Laboratory for Tropical Agricultural Biotechnology where he and scientists from more than 20 developing nations have shared biotechnologies to lessen Third World hunger.
After Beachy earned a doctorate degree in plant pathology from Michigan State University in 1973, he did post-doctoral work at the University of Arizona and Cornell University. He taught at Washington University, St. Louis, Mo., from 1978 to 1991 and 1999 to the present, also spending eight years heading the division of plant biology at The Scripps Research Institute in La Jolla, Calif., in the interim. He also was an adjunct professor of biology at Peking University in China and the University of California. He is editor of the Journal of Virology and won the R&D Magazine 1999 Scientist of the Year award.
Beachy served with Mennonite Central Committee in 1967-1968 and has volunteered for the St. Louis Science Center, St. Louis RCGA and the St. Louis Academy of Science.
Beachy and his wife, Teresa S. Brown Beachy '68, have two adult children. They attend Ladue Chapel in St. Louis.