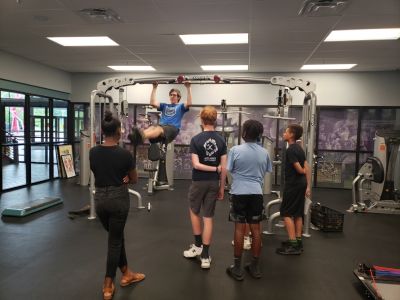 Goshen Write on Sports campers interviewed Hugh Birky, a 19 year old native to Goshen, Indiana. Hugh recently competed on the American Ninja Warrior.  He shared with Write on Sports Campers, that his love for the competition started when he was in high school. He would sit with his friends, eat cookies and watch episodes of the show.
When the American Ninja Warrior changed the audition age from 21 to 19, Hugh new it was his time to audition.  He begin training at the local Goshen College Gym and traveling to local Ninja Gyms around the area.  He knew it was not going to be an easy journey, however, he took on the challenge and started training 4 to 6 times a week. He would spend several hours working on grip strength, and practical body movement.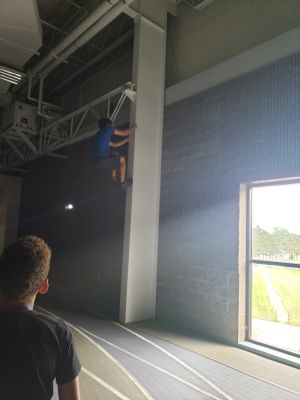 The Write on Sports campers wanted to know  how he was feeling the day of the competition. He shared, " it was an insane experience."  He had the love and support of 20 of his closest family and friends that were able to travel with him and attend.  When it came time for him to face the obstacle course, he said, " it was mainly adrenaline pushing him forward." He describe the scene as insane and that the crowd went wild.
Hugh placed 35th out of 120 competitors. He was also 1 of the 38 individuals to be televised. He has high hopes to re-audition in 2021, to compete again.
Hugh left the Write on Sports Campers with an impressive demonstration of different exercises he does in order to train for the different obstacles. The campers were in awe, as one student named him the "Spiderman of Goshen. "