On July 10th, Write on Sports interviewed Notre Dame Wide Receiver  Chris Finke. Chris is currently in his 5th year at Mendoza College of Business. He is currently working towards a Master's in finance. His love for Football captured several of the Write on Sports campers as they began interviewing him.
Chris began his journey at Notre Dame as a  walk-on prior to the 2015 season.  During the 2015 season Chris did not see any playing time. However, that did not stop him from being determined and continuing to practice on a regular basis. In the 2016 season, Chris played in 10 games for the Irish. He was able to accomplish a 31- yard touchdown against Virginia Tech and also grab a full scholarship during the fall camp.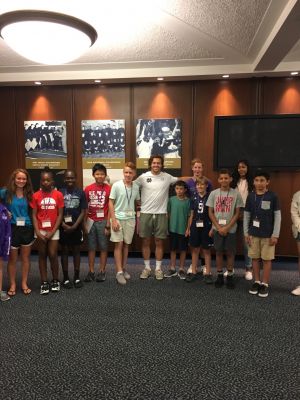 Write on Sports campers found his hard work and dedication inspiring. This led our conversation to his Senior year. Chris was able to play in all 12 games. He caught 47 pass and had 547 yards with two touchdowns.  Chris mentioned that his favorite highlight was the win over No. 14 Michigan where he scored in  the season-opener.  Chris will be going into his final season this year with high hopes.
When asked about his future plans he hopes to be drafted into the NFL.  The Write on Sports campers mentioned that they hoped to see him in the future.  He left them with one final thought, to never give up and continue to work towards their dreams.  With dedication and determination they will go far.