Megan Golden, Assistant Athletics of Communications, welcomed Write on Sports Campers at Notre Dame University Conference Hall on July 11th. Campers got to experience being with three of the Fighting Irish media professionals, including Social Media Manager, Sarah Higgins.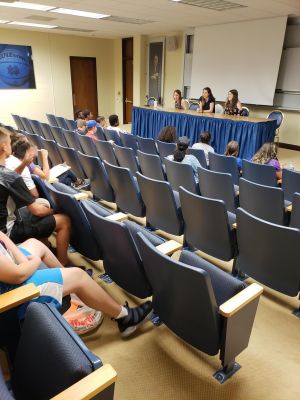 Campers got to learn about interview procedures and questioning, and knicks and knacks about how interviews with athletes and coaches are set up and conducted.  One of the things that made an impact on all campers was the stories about social media. It's important to get the word out quickly and what better way to get all updates of your favorite teams through social media. Notre Dame was one of the first teams to join the social media trend.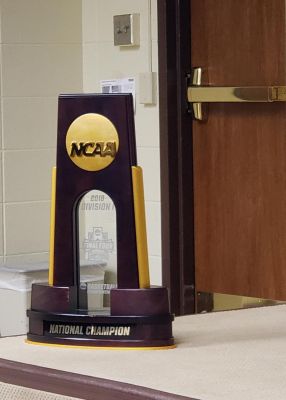 After a delectable lunch, Write on Sports campers got their chance to demonstrate their journalism skills by interviewing Notre Dame soccer players, Sammi Fisher and Kate O'Connor, and baseball pitcher Zack Martin. They also got the amazing opportunity to view and take pictures with the Women's Basketball NCAA Championship trophy from the past year.
We ended our visit with a very traditional picture in front of the touchdown Jesus and taking a short walk through campus. This was a very memorable experience for all the campers. On the hour bus ride back to campus, all of the campers couldn't stop talking about how much fun they had.