Legacy of Julius Nyerere & BORDA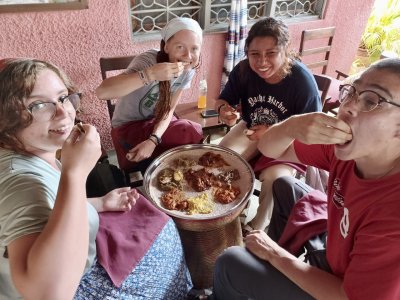 Wednesday Feb 1, 2023
The students just left our apartment in Upanga to head home after a good discussion of the week's events. We have been exploring the colonial history of Tanzania and the independence movement championed by Tanzania's first president Mwalimu Julius Nyerere. This week we are examining the current opportunities and challenges that Tanzania faces in providing government services including water management, healthcare, and education.
On Monday we met two leaders of the Nyerere Foundation, Dr. Frances Matambalya (Executive Director) and Joseph Butiku (Chairman of the Board) in their downtown offices. Mr. Butiku was the personal assistant to former President Nyerere; after giving us greetings, he engaged us in a conversation about the purpose of education, which was a key tenant in Nyerere's administration. It was a fascinating conversation with both leaders as we learned more about the legacy of Tanzania's first President, who helped usher in independence peacefully.
On Tuesday morning we visited BORDA – an NGO supported by the German development agency GMZ that seeks to help communities manage their wastewater. We received a warm welcome, an excellent presentation, then toured their demonstration system complete with a  biogas generator, wetland filter system, and fish aquaculture pond. They are doing impressive work to address improvements in sanitation by engaging local community members and policymakers.
After our tour, we piled into a caravan of bajajis to head to an Ethiopian restaurant, Rohobot, which is a favorite spot of the Shenk Sensenigs. For many students this was their first time to taste Ethiopian food….. delicious!
We walked off our meal, using the short walk from the restaurant to the KIU language school for an afternoon Swahili lesson. The focus was buying fruits and vegetables in the market. We indeed have been enjoying the plentitude of amazing, fresh fruits.
Tomorrow we'll receive a presentation from a local doctor about the healthcare system in TZ, then on Friday we'll spend the day at Pastor John Wambura's school in Nyantira. Wow, we have only 2 weeks left in Dar es Salaam!