Welcome to the 2023 Tanzania blog!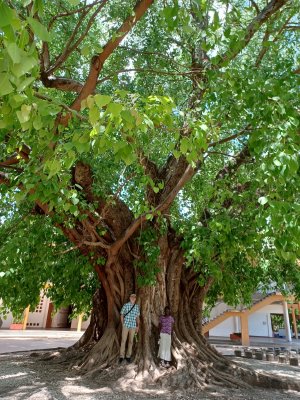 Welcome to the Tanzania 2023 Study Service Term (SST) blog! We have been preparing for the students arrival since December 21 and it feels really good to be back. We led the SST-Tanzania units in 2011 and 2014, so it has been 9 years since we lived in Tanzania.
Many things have changed (e.g. new buildings, roads, bridges), but much remains the same. In regards to the latter, we are again so grateful for the warm welcome from old friends and new ones. The welcoming, engaging, and warm people of Tanzania make one feel at home. We are hosted by the Mennonite Church of Tanzania (Kanisa la Mennonite – KMT), who have been helping arrange host families and the multitude of details. We will properly introduce them to you in a future blog.
The students will arrive the afternoon of Jan. 12th and we are really looking forward to their arrival. Our team will include thirteen students from a variety of disciplines and backgrounds, in addition to our family (which includes our daughter Mara and my spouse Donna).
We keep reminding our students that SST is the privilege of a lifetime, not just because we are embraced by a community in a new land, or because we have the chance to see new vistas and taste new foods. This is the privilege of a lifetime because as a group of scholars, as a team, we combine our insights, questions, and disciplinary wisdom to together explore this place. From the syllabus:
In SST you will encounter a way of learning that is entirely unique. It is not unique because you have never done it before, you have. It is unique in that you are doing it as part of an integrative whole, connected to your broader GC education, connected to your peers with whom you are traveling, and connected to this place, the unique and multifaceted place of Tanzania. You will be a member of a roving think-tank, a reflective family, a questioning and listening community. 
Using readings, lectures, and field trips we will be examining themes in environmental justice as we probe ancient human history in Tanzania through current times in order to understand how human communities have both been changed by, and drastically altered, their environments. Often the consequences have created injustices the world over, while simultaneously nurturing faithful communities that seek restoration and healing.
This is the human story, our human story, perhaps the same in most places. And while we will be learning much about this place, we are likely to learn an equal amount about ourselves and the spaces from which we come. We welcome you to join us on our "roving think tank" and look forward to having you along for the discovery.
– Ryan Sensenig for the 2023 SST team