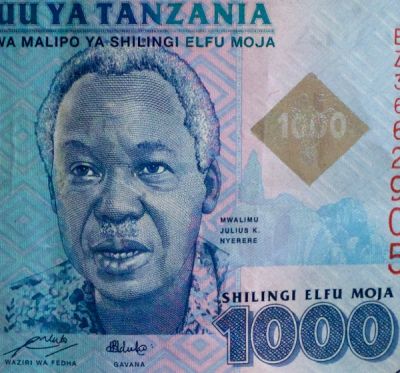 Mwalimu ('Teacher') Julius Nyerere was Tanzania's first president after independence (1961). He propounded Ujamaa–a socialism grounded in the solidarity of extended African families.  He managed to unite the country not least by promoting Swahili as a national language, and Tanzania has avoided much of the ethnic violence that has plagued surrounding countries.  While Tanzania's socialist experiment has had some missteps, we have witnessed widespread affection and respect for Mw. Nyerere.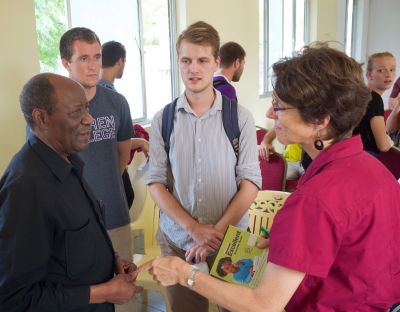 We were privileged to hear from Joseph Butiku, Nyerere's chief of staff for many years.
Some of the other lectures this week dealt with the development challenges that Mw. Nyerere wrote about: eradicating disease, poverty, and ignorance.
Dr. Billy Ngasale (Muhimbili University) talked about malaria.  A package of recent interventions–including use of treated mosquito nets, a project which MEDA has been active in–have been successful enough that the main vector for malaria here has shifted from the an. gambiae s.s. mosquito to a different species, an. arabiensis.
We visited the new U.S. Embassy for a briefing.  The old embassy was bombed in 1998.    Over half of current U.S. aid to Tanzania is going to health initiatives. We appreciated our hosts' willingness to answer any of our questions, including about the recent immigration ban.
Tanzanian cloth and clothing
Students packed quite light to come to Tanzania. It's summer in this country just south of the equator, so we are all quite practically interested in finding out how Tanzanians deal with the heat. This has resulted in a number of trips to Kariakoo to shop for fabric–which comes in a fantastic array of colors and patterns.
Delas are very simple, lightweight dresses that work great in this hot climate.
Khangas are rectangular pieces of fabric, always sold in pairs, that are wrapped as a skirt, or wrapped over other clothing like an apron, and always have a Swahili saying. (Sometimes hung out for a neighbor, or given as a gift to communicate a message!)
Other fabrics inclue kitenge, batiki, and makenzi.  Everyone seems to know a tailor who makes clothing to measure, and SSTers are following their families' connections.