Language classes / UDSM / Vicensia Shule
Students had been split into 4 groups for language instruction by KIU (Kiswahili na Utamaduni, "Swahili and Culture") teachers.  These smaller groups began this morning.
Vicensia Shule at UDSM
After language class, we navigated to the University of Dar es Salaam (UDSM) on the outskirts of the city for the first time. We'll have several lectures at UDSM, and the university also has some inexpensive and efficient cafeterias which serve many of their 10,000 students for lunch each day, and us as well today.
Vicensia Shule, chairperson of the Tanzania Gender Networking Project (TGNP), and faculty member in the drama department at UDSM, had an engaging presentation on issues for women in Tanzania and left a lot of time to interact with student questions and concerns.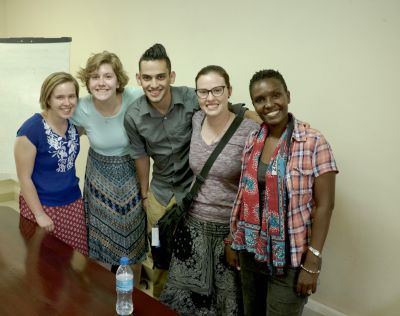 Several of their activities are focused on increasing access to education for girls in secondary school. The TGNP was organized in 1993, the year after the Tanzania government began to allowed multi-party elections.