Sunday Church & Lectures at UDSM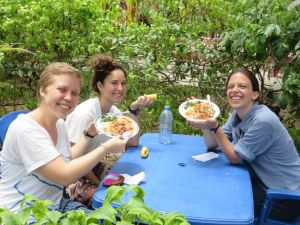 Sunday students spent the day with their host families – most attending church at various locations.  A few of us attended Sinza Mennonite church in Sinza, where we were very warmly welcomed!
Both Monday and Tuesday started with Swahili class in the morning, then visits to the University again for history lectures.  On Monday Dr. Bertram Mapunda presented us with an overview of the earliest human history in Tanzania, dating back to Australopithicenes found at Olduvai Gorge near Ngorongoro Crater (a place we'll visit in a few short weeks). Tanzania indeed is the birthplace of humanity, with the oldest rock art extending back 50,000 years!
Today Dr. Kessy presented a more detailed analysis of the Swahili culture and Indian Ocean trade. We left impressed with the notion that the Dar es Salaam region has been at the heart of an ancient, persistent trade route connecting East Africa to the Middle East, Indian, China, and beyond.  There is even evidence of trade with the Greeks extending back to the first century.  We'll see some evidence of this trade when we explore Bagamoyo this weekend, one of Tanzania's oldest towns and a World Heritage Site.
Students are looking forward to our plans for tomorrow, which include our weekly unit house meeting after which we will be attending a music festival in town.  Since the musical event will end rather late, we've decided to have the students stay at the YMCA in town to avoid traveling home late at night. Stay tuned!
– Ryan for the entire SST family!