First day of Swahili class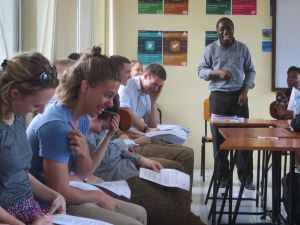 Today marked an important milestone. Students traveled to the church on their own this morning, using daladalas to navigate the various roads to the right bus stops.  Remarkably everyone arrived on time! (However today is Maulid Day – so the traffic was light…. other days it may be a bigger challenge!).
As students arrived they compared notes from their first weekend with their host families… some attended church or visited relatives…. everyone ate lots of ugali!
Swahili classes started promptly at 8:30 and we were introduced to our four Swahili instructors (with KIU language school).  They are a wonderful team and brought energy and humor to our morning. The typical schedule includes Swahili from 8:30-9:30, then a pause for the customary chai break until 10:00, after which classes resume until 11:00.  Students were free to walk downtown for lunch, many elected to stay and eat at the canteen at the church.
The afternoon included an introductory presentation from pastor John Wambura about the KMT (Kanisa la Mennonite Tanzania) followed by Ryan introducing the course curricula, which will cover History & Culture, Arts & Literature, Natural Science, and Intercultural Communication.
We are all excited to get into our routines and explore our week's theme of Tanzania Culture & Identity.  In addition to Swahili class each day, Tuesday we'll gather in the afternoon at Unit House, Wednesday visit the U.S. Embassy, Thursday visit the Village Museum, and Friday head to the University for our first history lecture.