Alison lives in Mwanza, the second largest city in Tanzania, which is also located on the shores of Lake Victoria about 3 hours south of Musoma.  We left Musoma on Wednesday afternoon and arrived in Mwanza around 4:30 p.m. in time to meet Alison at her workplace.  The drive is a beautiful journey through rolling green hills dotted with small villages among large rocky outcrops.  The road at times follows the shoreline of Lake Victoria and also passes through the edge of the western corridor of the Serengeti National Park, where we viewed wildebeest and zebra from the highway.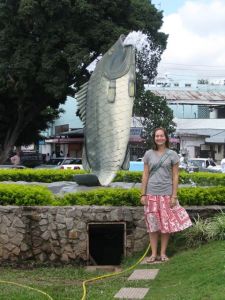 Arriving in Mwanza, however, puts one back in the urban environment, as it is the second largest city in Tanzania.  Alison is volunteering at the Netherlands Development Organization otherwise known as SNV.  Here she is working with other international interns (mainly from Europe) on a research project that aims to determine if more can be done to attract tourists to the Mwanza area.  The work supports the development of a tourism organization, the Mwanza Tourism Association (MTA), which aims to increase the awareness of the cultural centers, hotels, tourist shops, and historical sites of significance that could be used to create better incomes for local communities.
Alison spends about 3 days a week visiting field sites where she and colleagues assess the quality, cost, and location of potential tourist attractions.  The rest of her time is spent in the SNV office helping analyze their findings and working to assess the viability of the tourist opportunities.  Alison has enjoyed the experience working with an established development organization, which seems to appropriately blend her interests in sociology, international relations, and development.
We enjoyed taking Alison to dinner in downtown Mwanza (great pizza!), hiking to a favorite rocky overlook that she and friends have frequented (despite the rain), and exploring the city center (complete with the "fish" roundabout.)  We also visited her host family – Joseph Shanyangi and his wife and two kids who live in Mwanza.  Her two little host brothers, Sam and Kevin, entertained us well!
Alison is one of only two students who are living somewhere without other SST'ers and this has proven an excellent experience for her.  We were again impressed with our GC group!