Abby and Mark – two schools in Musoma
Abby Hertzler and Mark Meier are both living and working in the town of Musoma, which is nestled above Lake Victoria.  They are living about 20 minutes from our home in Nyabange, so we have seen them a number of times during the 5 weeks.  However, on Monday we arranged for "formal" visits to their homes and places of work.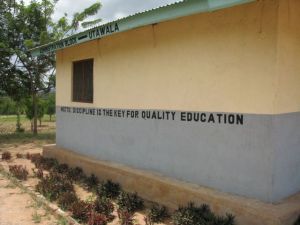 Abby is working at Victoria Secondary School, a private school run by Mr. and Mrs. Olimo.  (The Olimos are parents of Agnes Odhiambo who lives in Goshen!  It is a small world.)  Abby has been working in the school's library and doing an excellent job of organizing books, creating a numbering system, and helping establish and write a "library policy" document that can help the school in managing and caring for their collection of books.  Abby has really been enjoying her time at Victoria and lives with the Olimo's, who run the school.
We enjoyed tea with Abby (in the library no less!) and met many teachers and students who make use of the library.  The school is built on top of a rocky hill with fabulous views of Lake Victoria… a tranquil and rural feel, despite being in Musoma.  Abby spends most of her time in this setting and comes to town on the weekends to check in with Mark or other SSTer's nearby.
Mark has been working in two settings to utilize his skills in ASL (American Sign Language), which is his area of study.  He has been helping tutor primary school students at a deaf school in downtown Musoma.  ASL is not taught at the primary level here in TZ, but is used at the secondary level.  Mark has also been volunteering at Lake Victoria Disability Centre, a non-profit organization that provides training to students with disabilities.   Many of the students at the centre are deaf and receive classes and instruction in sign language in conjunction with training in sewing, metal work, carpentry, and/or screen-printing.
We had a wonderful visit to the Disability Centre, met some of the students, and were impressed to see how quickly Mark had become a member of this community.  The centre is beginning to sell some of their products to provide further funding for the centre and to also provide real-world business experience for the students.  We bought some of the first T-shirts produced from work designed by the students in the screen-printing classes.  Check out their website: http://www.lakevictoriadisabilitycentre.org/
Mark and Abby seem quite at home in Musoma and it is hard to imagine that in a few short days we'll be welcoming all the students back to Musoma for a night before taking our 17 hr bus ride back to Dar es Salaam!