Meg & Ted – Kemgesi teachers!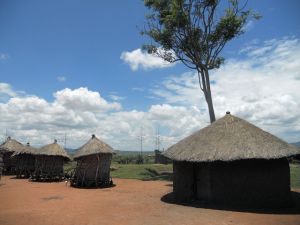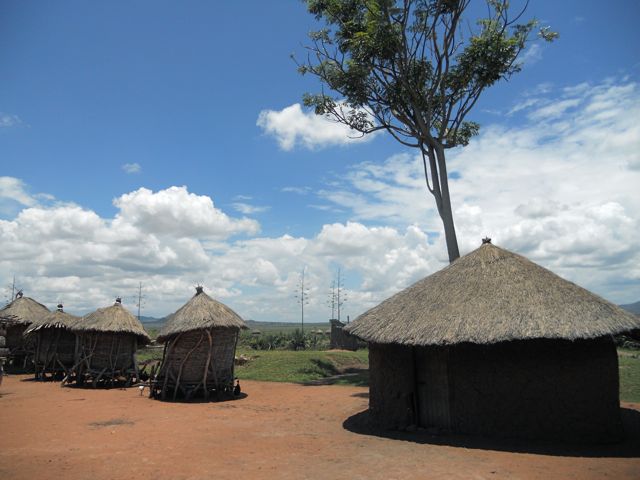 We arrived in Kemgesi late on Thursday night after our long safari through the rolling hills of surrounding villages. Kemgesi town is nestled on the slopes of a rocky hill in front of a treeless plain of green pasture.  Our headlights didn't allow us to gain a full feel of the vista, but we succeeded in finding our waiting welcoming party!  Ted and Meg were alongside the road with their host parents, David Maganya and Josephine Bias, respectively.  After an excited flurry of hugs and hellos, we stowed our luggage at Josephine's house and walked the short distance to David's house for dinner.  Before falling into bed, we had a warm bucket shower at Josephine's…. ahhhh, how nice!
Meg teaches at a small Montessori school that is owned by David and directed by Josephine who is the lead teacher.  Each morning, Meg teaches several lessons to the 25-30 preschool children at the school, which is directly next to Josephine's house. Talk about a nice commute! Meg teaches the students English while Josephine teaches the other classes: Swahili, Science, Math, and Art.  The students have access to a diverse and creative range of hands-on activities, games, and puzzles… something that is a rare commodity in many communities. Meg also plays with the kids outside for a recess break of games. The students also receive porridge for lunch before returning home in the afternoon.  Meg is really enjoying this experience, the small class size, and working with Josephine, whom she adores.
Both Ted and Meg also teach English lessons at the Secondary School two days a week.  The secondary school serves about 480 students in Form 1-Form 4 (the equivalent of 8th-11th grade).  We visited the school, signed the guest book, met the assistant headmaster, and greeted the students.  After snapping a photo with the students, we toured new classrooms under construction, in addition to the soccer field and school shamba (agriculture farm).  Each student is required to help weed and maintain one row in the field, and the food supports the cafeteria!  (Great idea for GC?!)  Ted and Meg are finding teaching both challenging and rewarding.  All around town, their students call out to them using their new names… Gebani! … Nchota! (Ted and Meg, respectively).
Ted's other work is to help with the Community Resource Center, a local organization started and directed by his host father David.  The center is designed to be a cultural education center that documents and preserves local culture, while empowering its youth and community members to become more aware, educated, and literate about their community's history.  The CRC has succeeded in gaining funding for buildings and some infrastructure, but currently lacks the books, computers, desks, and cultural artifacts to become fully functional.  Part of Ted's work has been to help write a rough draft for a grant in order to secure additional funding.  He is also pursuing opportunities to interview local residents and elders to assist David in documenting the community's stories.  Before leaving we were invited to a meeting of local community leaders taking place at CRC, where we gained an appreciation for this community's resolve to make a difference.
We also enjoyed meeting David Maganya's 93  yr-old mother who lives with Ted and the family in a beautiful, traditional compound. The family tends cattle and goats, which are corralled in 3 separate bomas next to the house.  From their compound one gets an amazing view of the plains in front of Kemgesi and the mountains beyond.  Kemgesi is a special place, with astounding beauty and a close-knit community in which Meg and Ted have succeeded in making a new home.