Josh – Farming in Kenyana
We left early Thursday morning for Kenyana, a very rural town about an hour west of Mugumu.  We met Josh Miller and the pastor of the Mennonite Church in Kenyana along the roadside flagging us down.  Otherwise, we may have passed right through Kenyana!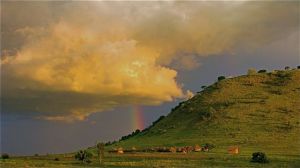 Kenyana is a beautiful town with mountain ranges framing the sky in all directions.  Josh lives here with his host mother, Mama Kisaka, and her children.  We were warmly welcomed into their home for a tasty brunch of tea and pancakes.  Mama Kisaka's energy and smile fills a room and we were instantly at "home."  Josh works with the local Mennonite Church on a cassava project.  The church has a plot of land on which they and community members have planted a new hybrid variety of cassava that is more disease resistant than previous varieties.  Josh awakes early and walks the 15 minute hike to the shamba (field) where he works for several hours of weeding.  We brought fertilizer from Mugumu for the project and Josh will begin to apply the fertilizer this week.  Josh has also been investigating the history of the town, church, and agricultural project by interviewing local residents and is becoming very familiar with the community.  We were impressed.
When we returned from visiting Josh's fields, he and church colleagues demonstrated to us the process of preparing the cassava for use in making ugali.  The church has received two gas-powered machines, which they use to grind the cassava for making flour.  After the cassava is ground, it is pressed to remove the water and later laid in the sun to dry.  In addition to the cassava project, the church operates a bee-keeping project and hopes to expand in offering residents cattle to supplement their goat herds.
After a tasty lunch of ugali, rice, and chicken (a major treat), we piled into the land cruiser at 2:30 p.m. for a "short" safari to meet Josh's supervisor, Pastor Nyanyika, who is also a teacher at a school in Kisaka town.  Pastor Nyanyika is helping organize the cassava project with the Kenyana Mennonite church and comes to Kenyana on weekends to help facilitate Josh's work.  Our trip to Kisaka was a long and winding journey through stunning vistas.  We visited Pastor Kisaka's school (arriving around 5:oo… it was quite a drive!) and shared a meal with his family at his home.  Kisaka is another area where early Mennonite missionaries started a church community and we shared stories of those early days.  Leaving Kisaka we thankfully found a short-cut to return to Kenyana. We were amazed with the beauty of sky, land, and people, which combined to frame some memorable images.
Arriving in Kenyana around 7:30 p.m., we decided to continue on to Kemgesi to visit Ted and Meg, who were expecting us at 4:00 p.m.!  Such are the challenges in keeping a schedule when the landscape is so stunning and the people are so welcoming – we need 2 months to do justice to visiting everyone.