Nyabange Mennonite Church & MTCEA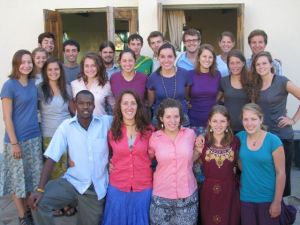 On Sunday the students and our family attended the Nyabange Mennonite Church in Nyabange, a small village on the outskirts of Musoma where the Mennonite Theological College of East Africa (MTCEA) is located.  We have also been offered a house by the college to stay in during our time on service, for which we are very grateful.  In addition, Ariel Ropp is doing her service assignment with the college, which includes some teaching and work in the library.
During the Sunday service we were warmly welcomed by the congregation, by Bishop Christopher Ndege, and the leaders of the Theological College, including the SST Service Coordinator, Emmanuel Mwita who serves as the college's Dean of students.  The Goshen students sang a song and introduced themselves, bringing greetings from their home congregations in the U.S.  The Bishop offered a special prayer for the SST group as they headed off to their service locations.  After the service we were treated to a tasty meal of rice and ugali before returning to the Mennonite Center in Musoma for the evening.
The Mennonite Church in Nyabange, the Theological College, and the Lake Diocese office under the leadership of Bishop Ndege are all located in Nybabange.  We have been received so graciously by all of these entities and are grateful for the breadth and depth of the Mennonite Church here in Tanzania.
We have continued to hear from the students on service, who all seem to be doing well.  They are enjoying being able to walk to their work locations, appreciate the cooler weather, and are eager to make contributions to the communities in which they live.  We'll start visiting the students next week and will begin to report on their activities.