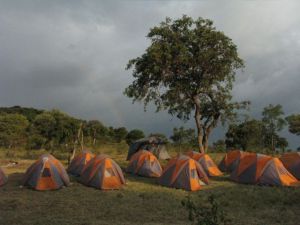 During our visit to Grumeti we stayed at the Ikoma Cultural Center located between Mugumu and Nata.  The cultural center is run by Agnes and her husband and provides an opportunity for visitors to experience some of the local culture surrounding the Serengeti, while at the same time providing economic benefits to the communities.
Upon our arrival, we were warmly welcomed with tea and water, something we all needed after the dusty 3 hour ride from the Serengeti.  A cultural dance troupe danced and played for us as we drank our tea, followed by introductions and welcomes.  After setting up our tents we enjoyed our typical "camp" dinner, a first course of soup and bread, followed by the main course and fruit for dessert.  In the evening we were treated to an Ikoma fire starting ceremony, a ritual including prayer, dance, and rubbing sharply hewn sticks together.  In front of a roaring fire we enjoyed more dancing, which the students eventually joined!  (This is a willingly dancing group!)
Students enjoyed bucket showers under the stars, hiking in the local village, and hearing the cows bellowing in the nearby boma (cattle exclosure).  Our campsite was located up on a bluff, affording a stunning view of the surrounding landscape. We'll look forward to returning to Ikoma sometime in the future.