Indigenous Music in Tanzania
The students' final exam was originally scheduled for Thursday, but since many students and teachers did not get much sleep on Wednesday night due to the accident at the military base, we postponed the exam until Friday.   In small groups, students spent Thursday afternoon exploring a variety of artisans in town to gain a better feel for how the arts are expressed in every day life.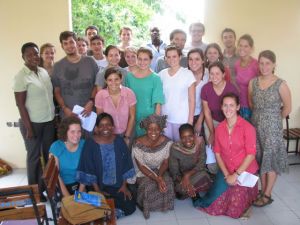 Friday the students finished their formal Swahili training (of course the real learning continues daily!) and received their official certificates of completion.  Congratulations Swahili graduates!
In the afternoon we received a presentation from Dr. Mathayo Ndomondo from the University of Dar es Salaam on indigenous music in Tanzania.  We were treated to a participatory journey through the evolution of music in Tanzania, then discussed interesting questions related to the effect of globalization on indigenous music and the role music has played in the country's political history.
Students are spending their last weekend in Dar with their host families and we are packing and preparing for the move up country.  Warm greetings from everyone.